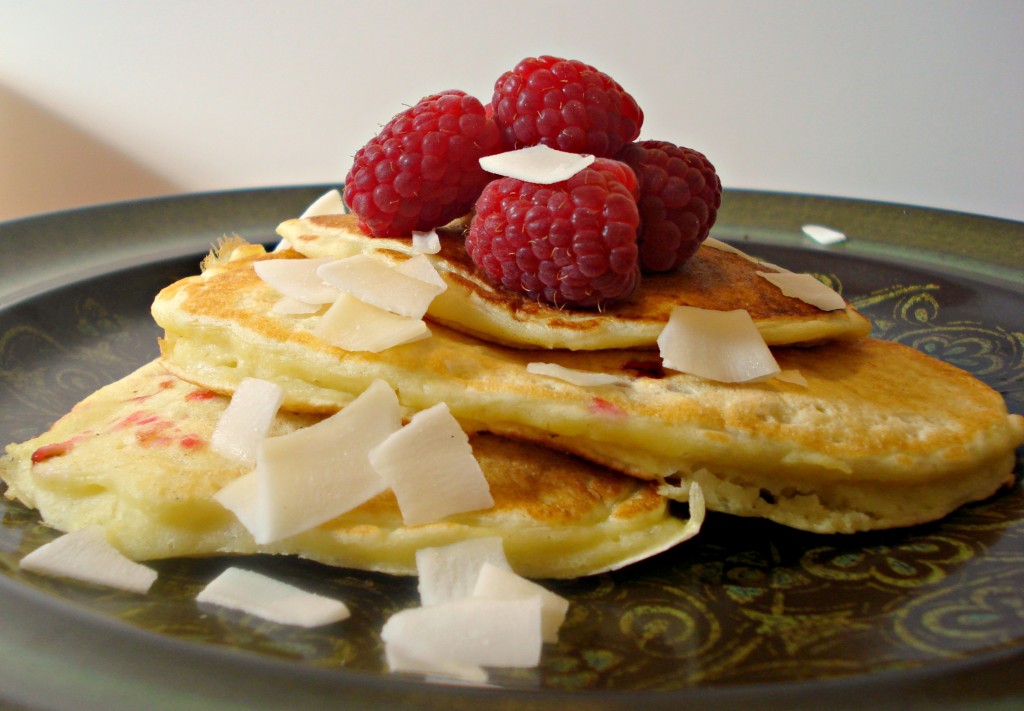 If you have a normal schedule, like a normal person, then you will probably hate me for what I'm about to say.  But here it goes: I love Mondays.
My current work week extends from Tuesday to Saturday, and while it can sometimes be disheartening to spend Saturday hard at work while I watch people flounce down the streets of Beacon Hill without a care in the world, it's all worth it on Monday morning when I do not have to roll out of bed at the crack of dawn, but can instead wake up at my leisure and spend the morning catching up on last week's episodes of The Daily Show and The Colbert Report– preferably with a decadent breakfast in hand.
On the rare occasions when Alex also has Monday off, look out.  I'm pulling out the stops for breakfast.  Though he would almost always prefer a savory, bacon-centric breakfast over a sweet one, the boy does have a soft spot for raspberries and the occasional pancake.  Since I would eat pancakes for every meal if I could, I take full advantage of the mornings when Alex's sweet tooth is awake.
I've also been on a bit of a coconut kick lately, so I decided to take the standard pancake in a more tropical direction.  This is a pretty typical pancake recipe, except that it calls for a mixture of skim milk and coconut milk.  The coconut flavor in the pancakes is subtle, so I also scattered coconut chips on top of mine.  Coconut chips probably should not be allowed in my house very often; it took all my willpower to keep from devouring the entire bag in one sitting.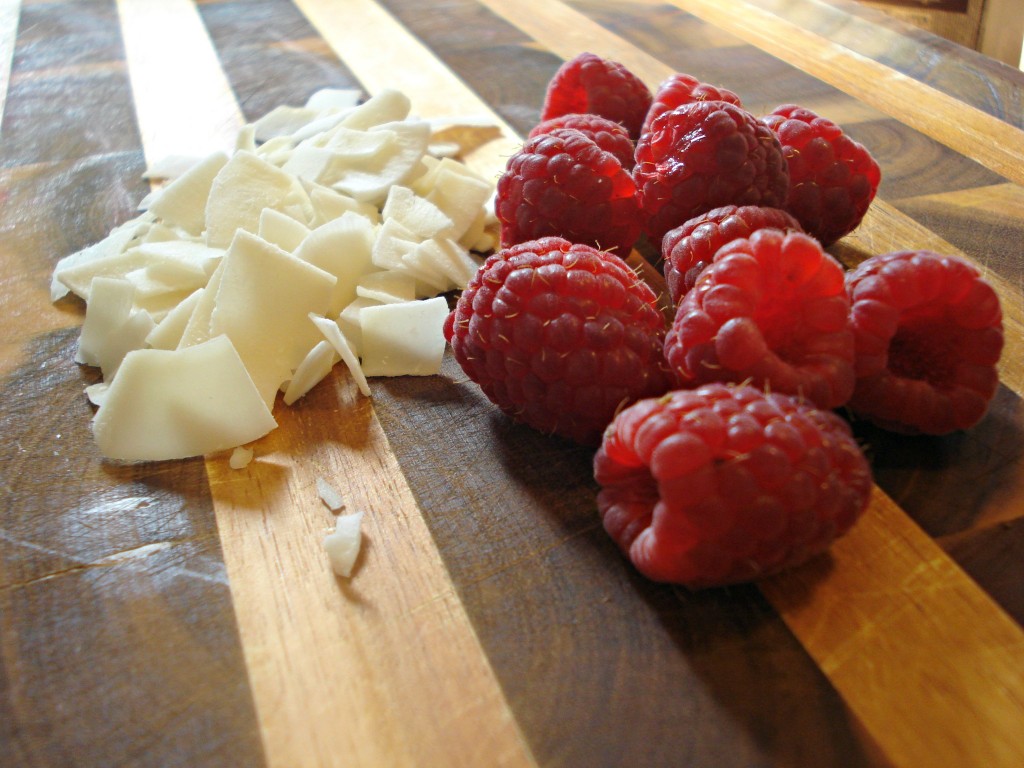 Although I also topped the pancakes with whole raspberries, I always like adding a little fruit to the batter, too.  Raspberries are a little bulky to add whole to the batter, so I sliced them in half.  I had never sliced raspberries before.  They look a little freaky, right?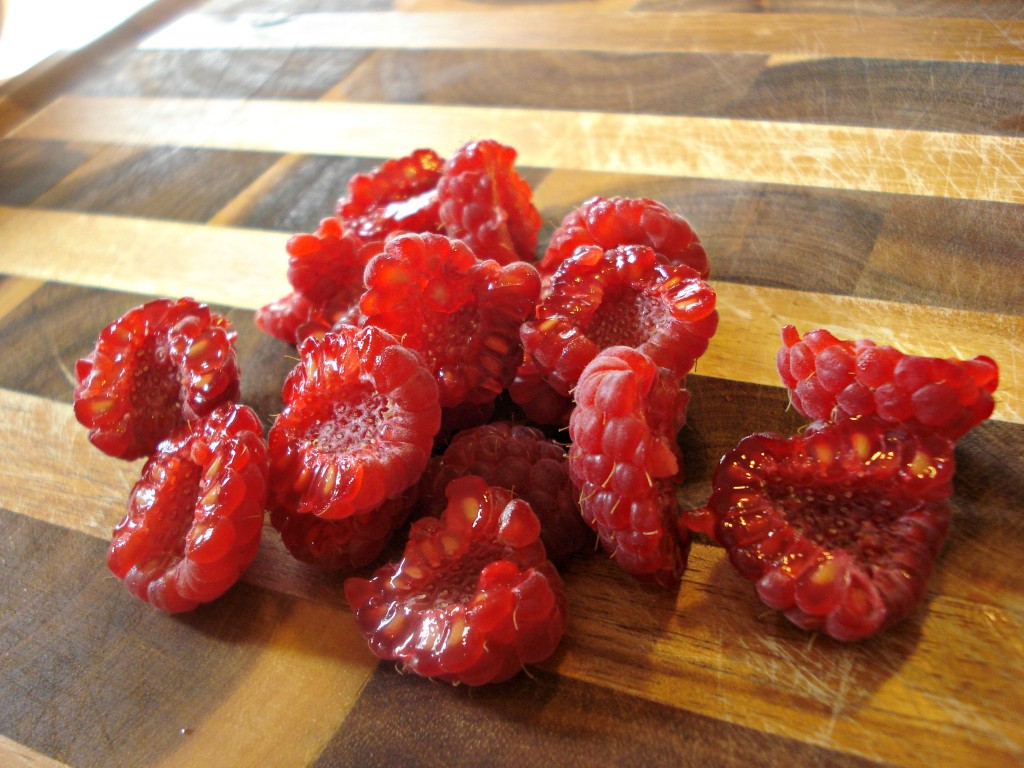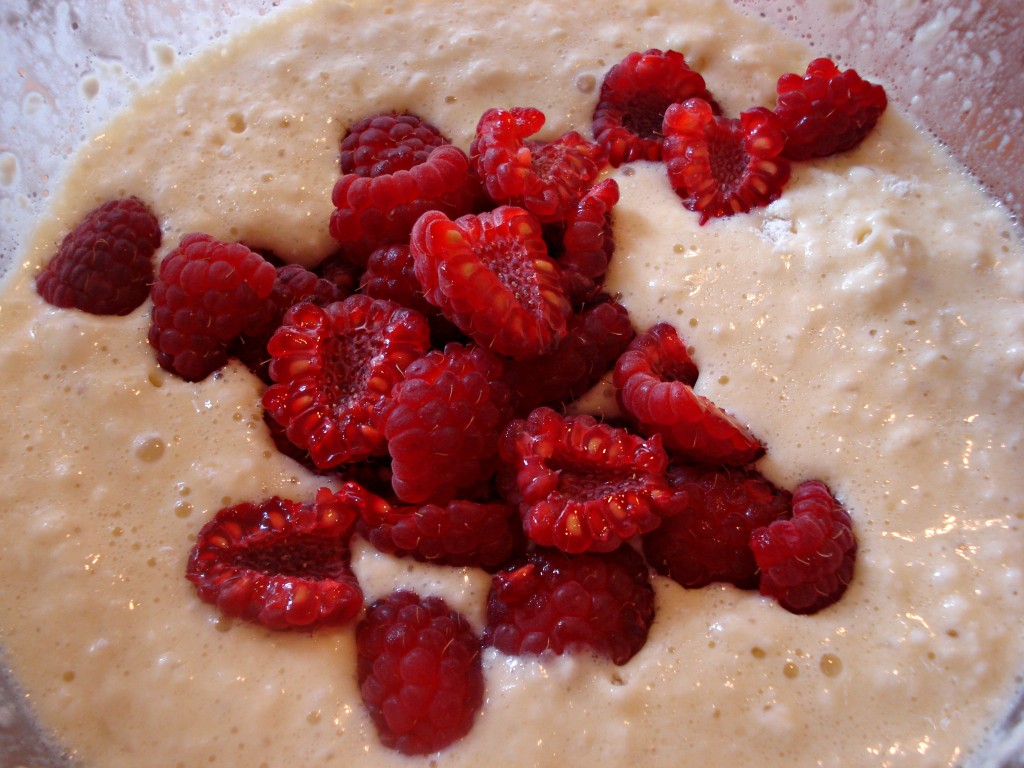 These pancakes are a real treat: fluffy, fruity, and sweet enough that you could forgo the maple syrup if you wanted (though I never say no to at least a drizzle of maple syrup). They're perfect for celebrating the warmth that is slowly but surely creeping into the city this month.
Whether you have a normal weekend, a middle-of-the-week weekend, or no weekend to speak of, I hope you'll take some time one day soon to sit down for breakfast with someone you love, whether your breakfast consists of pancakes, bacon, cereal, or just plain old coffee.
But I hope it's pancakes.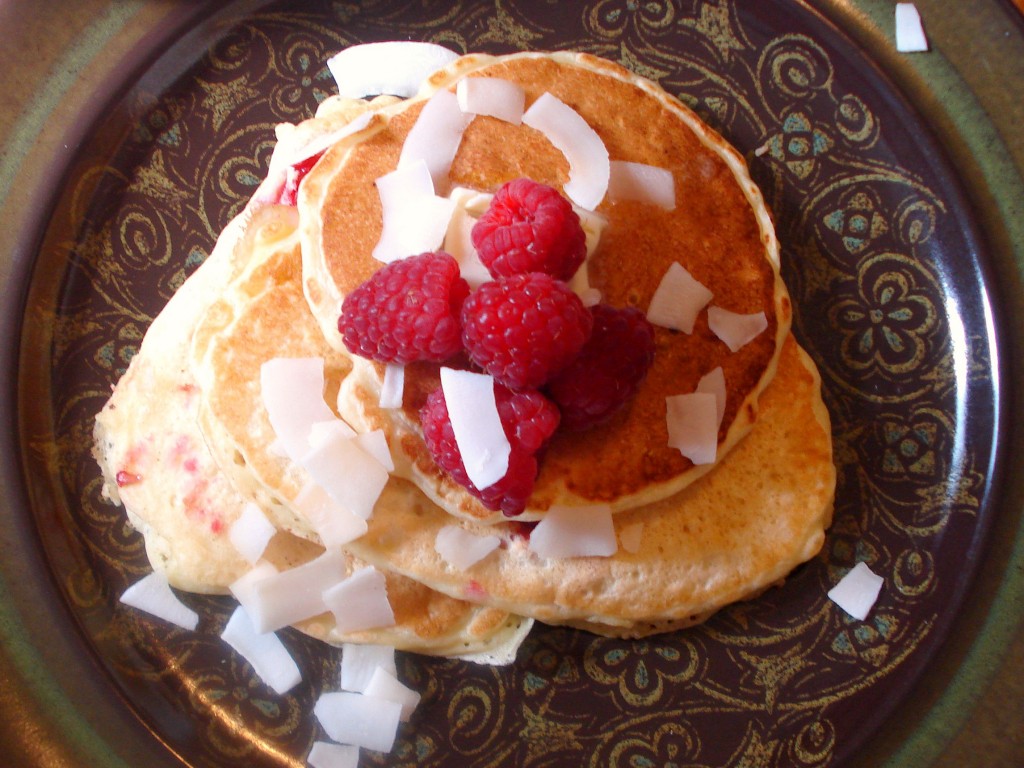 Raspberry Coconut Pancakes
adapted from Cooking Light
3/4 cup plus 1/3 cup all-purpose flour
1 1/2 teaspoons baking powder
1 1/2 teaspoons granulated sugar
1/4 teaspoon salt
1 cup light coconut milk
1/4 cup skim milk
1 tablespoon canola oil
1 large egg
1/2 pint raspberries, halved; reserve a few whole berries for topping
coconut chips
Combine flour, baking powder, sugar, and salt in a large bowl.  Combine coconut milk, skim milk, oil, and egg in a small bowl, stirring with a whisk.  Add milk mixture to flour mixture and gently fold ingredients together.  Fold in halved raspberries.
Pour about 1/4 cup batter per pancake into a nonstick skillet and cook two minutes, or until bubbles form on top and the edges look cooked.  Flip pancakes and continue cooking for about 2 minutes more.
Top with whole raspberries and coconut chips.