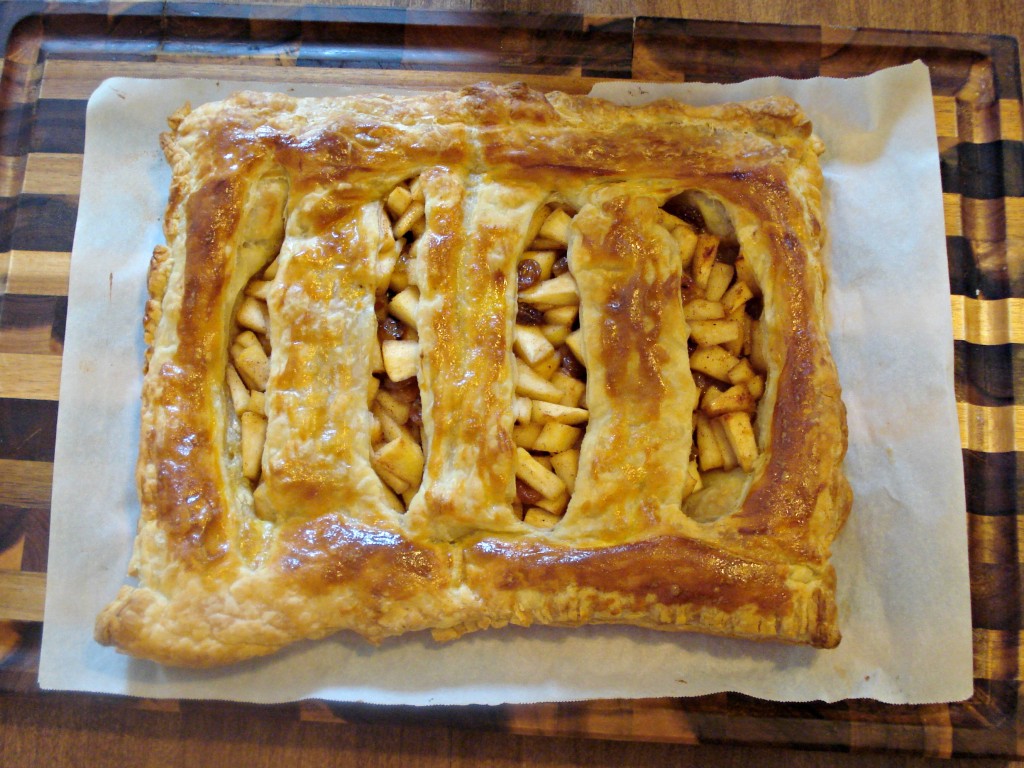 I have been thinking about Paris a lot lately.  It's hard not to; Paris-themed books and food and merchandise lurk around every corner these days.  My local bookstore is currently featuring a book chock full of Parisian photos organized by color (spoiler alert: there are lots of pastels).  Macarons appear to be the new cupcakes (although nothing can come as close to perfection as the cake-to-frosting ratio of a cupcake from my favorite bakery, if you ask me).  My favorite food blogger and podcaster wrote a book about her time in Paris that I can't stop reading and re-reading.  And Midnight in Paris is still my favorite movie I've seen in ages, two years later.
At one point, my Francophilia got so bad that I actually bought a book called Parisian Chic, which was all about how American ladies can dress, shop, and live more like their Parisian counterparts.  What??  I quickly came to my senses and returned the dang thing, remembering that I needed the ten bucks much more than I needed the fashion tips.
I did get to visit Paris almost five years ago (wow!), and oddly, I didn't love it.  Not that I didn't have a wonderful trip, but I left thinking I'd never go back.  For one thing, it was a school trip, and while that afforded me the opportunity to see multiple cathedrals, thousands of incredible works of art, and all the must-see attractions Paris has to offer, I've come to discover that one of the most enjoyable things to do in a big city is to explore it on no official schedule–tough to do when you have limited time and are sticking to a strict itenerary.  And, although I'm now comfortable admitting that I broke this rule with reckless abandon, we weren't allowed during the trip to go out into the city in groups of any fewer than three.  Psssh.  Alex and I were constantly sneaking off to grab lunch alone, and on our last night there, one of my beloved professors generously pretended not to know anything about our plans to grab one last dinner by ourselves.  All those years of being a top student paid off when it really counted.
But I think the real reason that I didn't immediately fall in love with Paris was that I was just unprepared for what a real city was like.  I guess I had expected everyone to flounce around in trench coats, high heels, and black berets, with baguettes and wine in tow.  I had expected every corner of Paris to be as picturesque as the Paris we see in the movies.  But the reality is that cities are sometimes dirty; there are cigarette butts on the sidewalk and the subway stations sometimes smell less than fresh.  If you visit a city in the dead of winter, as we did, it will be bitterly cold and probably less photogenic than in, say, mid-May.  It takes at least a few days to adjust to the culture shock of being somewhere other than the suburbs for the first time, and by the time I had begun to assimilate, it was time to leave.  Now, however, having lived for a few years in a city (though one that is admittedly smaller), I think Paris would be a totally different experience.
I may not be able to make a return trip to France for many more years.  But in the meantime, I do still have Cooking French, the untraceable, off-brand cookbook I bought in the airport with my last handful of Euros.  I didn't eat particularly well during my trip– between the awful exchange rate and my bias at the time against meals that consisted entirely of bread and cheese (what was I thinking??), I found few suitable options at the time– but the cookbook, I think, captures the spirit of the food I could have had if I had been a teensy bit more adventurous.
Hands down, my favorite meal of the day in Paris was breakfast.  We stayed in an adequate hotel in Montmartre, a somewhat seedy area of town, which happened to serve up the most amazing breakfasts I have ever seen to date.  Every morning, there was an array of hot chocolate-filled croissants, thin sliced ham that tasted like warm butter, crusty brown bread spread with thick layers of Nutella, a mysterious, vaguely tropical-tasting concoction named "multi-fruit nectar," and my favorite, an endless supply of café au lait.  I don't specifically remember finding any apple pastries at breakfast, but this one would have fit right in.
It may not be Paris, but spending a morning chopping up apples while nursing a hot mug of coffee does have a certain romantic feeling to it.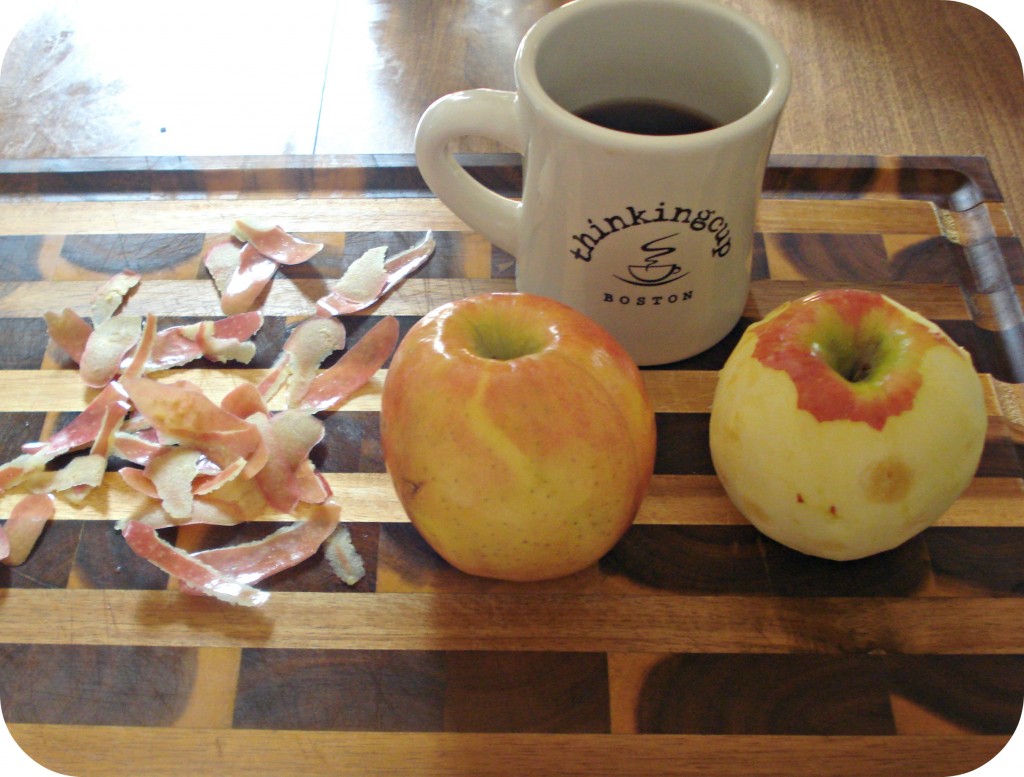 Lemon zest gets mixed in with the apples, along with some sugar, spices, and golden raisins.  You'll cook the whole mixture over low heat in a skillet, until the apples soften and absorb the sugar and spice, and the golden raisins plump up a bit.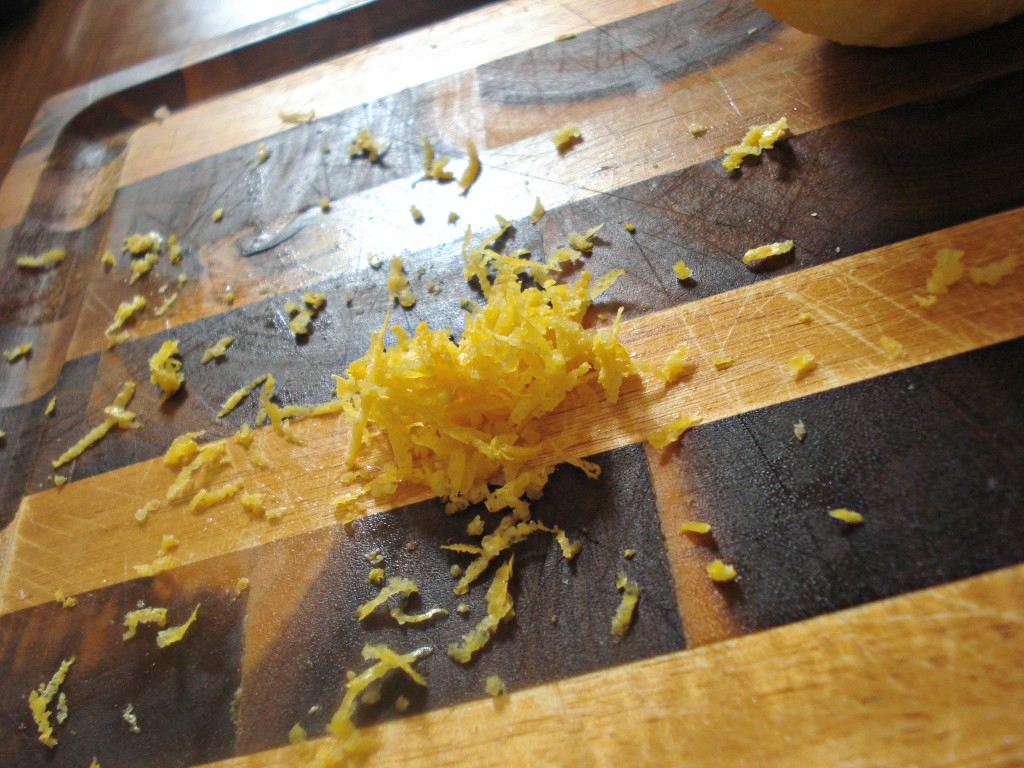 I'll go ahead and admit that I cheated a bit and used pre-made puff pastry.  Learning how to make pastry from scratch is on my to-do list, but not for today.
All you have to do to make this pastry is roll out two rectangles of pastry.  Pile the cooked apple mixture on top of one rectangle: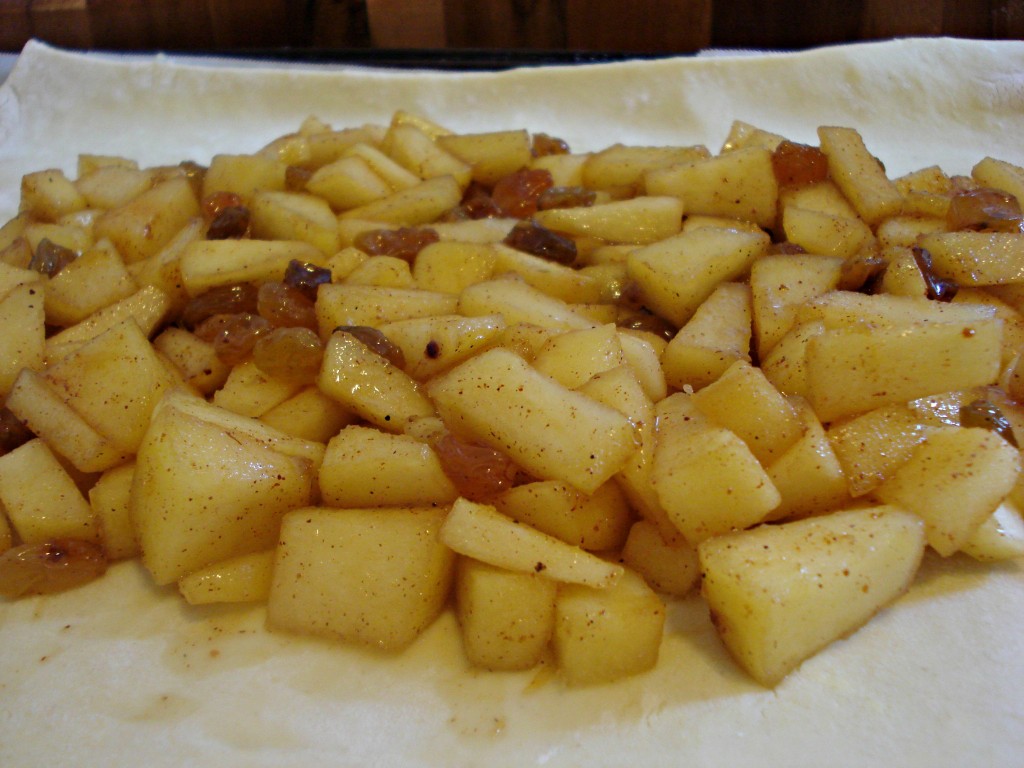 …and top it with the other rectangle, cutting a few slashes through the top.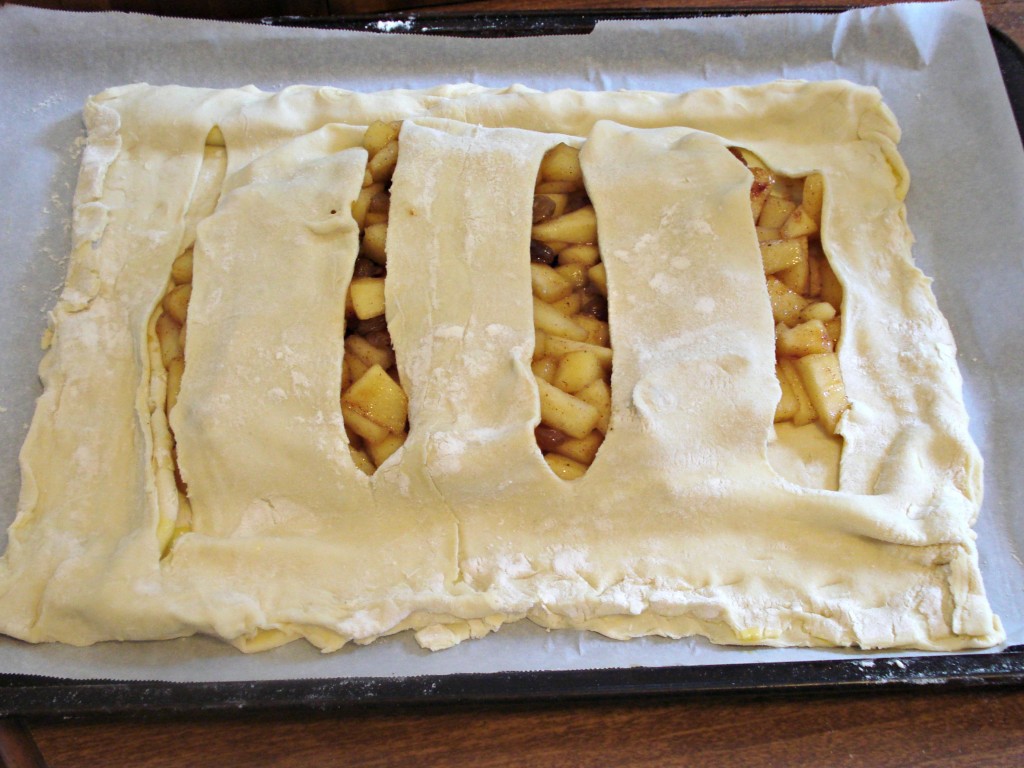 Brush the top layer with a beaten egg, and pop the pastry in the oven.
Does the house smell like Paris while the pastry bakes?  I'm not really sure.  It certainly conjures up visions of cozy bakeries and warm firesides… but to be honest, while I was in Paris, my sweets of choice were chocolate croissants and anything piled high with pastry cream (helloooo, Paris Brest), so I really couldn't tell you.  Next time I'm there, I'll scope out some apple pastries and get back to you.
But the taste?  Nothing reminds me of Paris quite like the flaky, buttery texture and flavor of fresh-from-the oven pastry.  The sweet apple filling is just a bonus.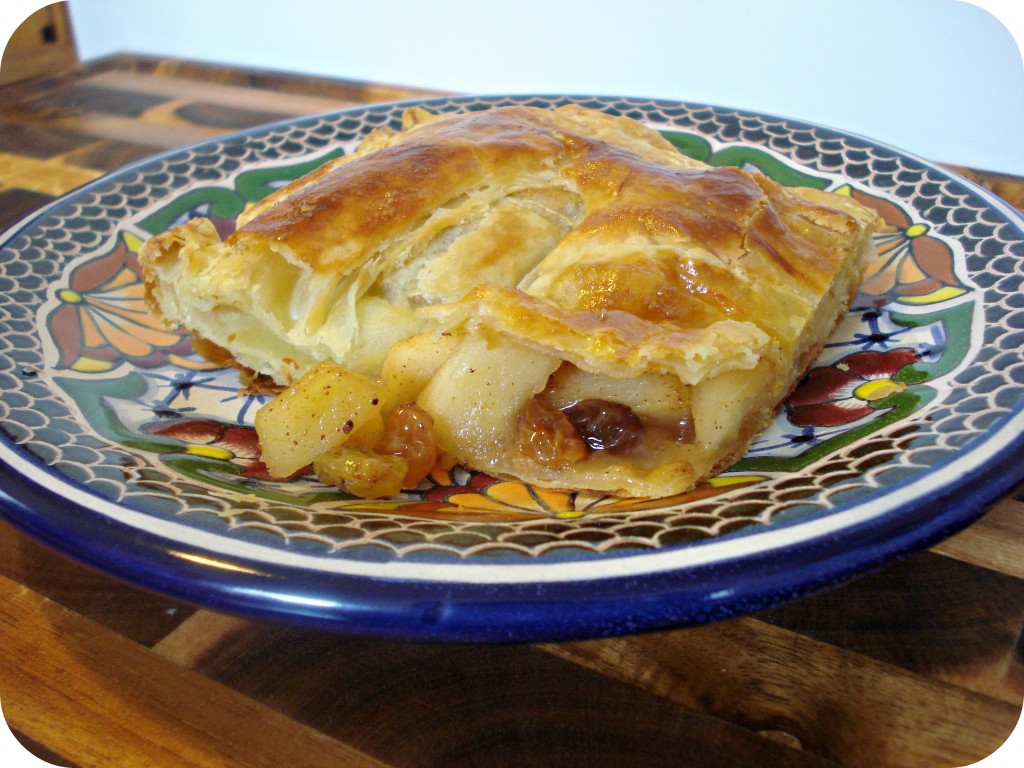 Of course, I would be remiss if I let an entire Paris-themed post go by without a single mention of Julia Child.  I don't know how I've managed to live for nearly 26 years without ever sneaking a peek at her famous cookbook, but I just borrowed it from the library for the first time ever.  Expect many more Frenchie posts from me in the near future.
Apple Jalousie
1 box frozen puff pastry, thawed
1 tablespoon unsalted butter
1/4 cup brown sugar
1 pound Pink Lady or Granny Smith apples, peeled, cored, and cubed
1 teaspoon grated lemon zest
1 Tablespoon lemon juice
1/4 teaspoon nutmeg
1/4 teaspoon cinnamon
1/4 cup golden raisins
1 egg, beaten
Preheat oven to 425°F and line a baking tray with parchment paper.
Melt unsalted butter and brown sugar in a frying pan.  Add apples, lemon zest and lemon juice.  Cook for 10 minutes, stirring, until the apples are cooked and the mixture is thick and syrupy.  Stir in nutmeg, cinnamon, and golden raisins; cool.
On a floured surface, roll out one half of the puff pastry into about a 10×7 inch rectangle.  Spread the fruit mixture over the pastry, leaving a one-inch border.  Brush the borders with beaten egg.  Roll the remaining pastry into a rectangle and place over the fruit; press the edges together and trim extra pastry.  Brush the top with beaten egg and bake for 25-30 minutes, or until golden brown.