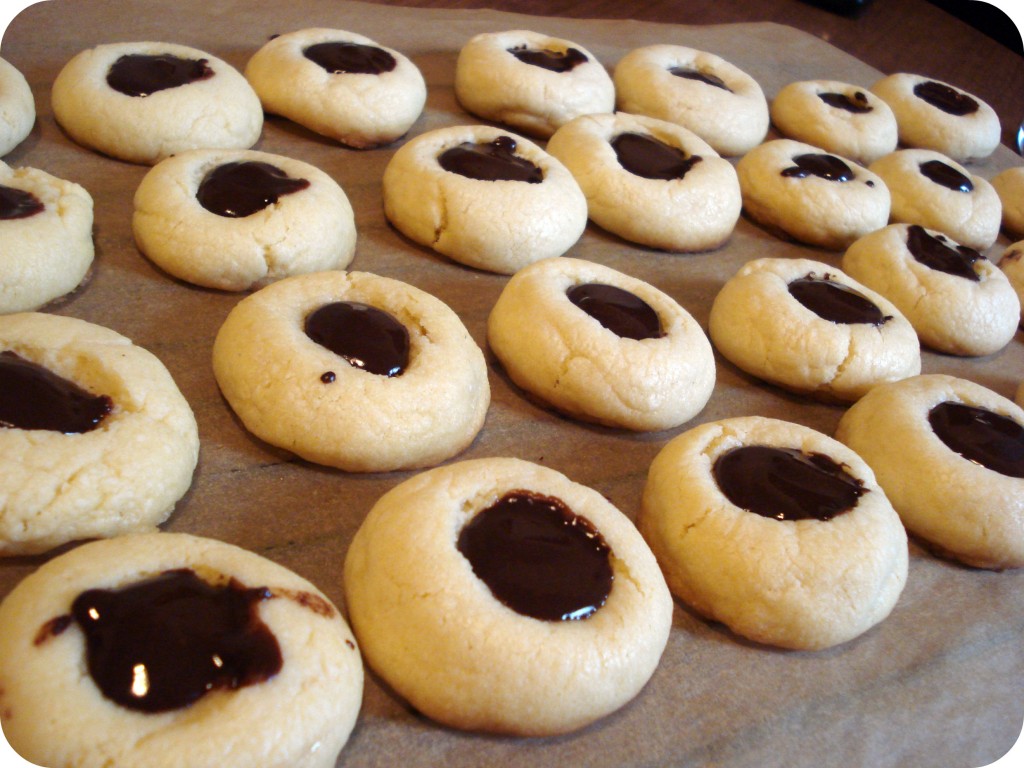 According to Martha Stewart's Cookies, "Children love these two-bite treats."  Umm, what are you trying to say, Martha?  That there's something childish about taking a perfectly good batch of cookies and sticking your thumb in each and every one of them?  That only kids would be interested in filling those thumb-holes with molten chocolate chips?  That, as an adult, I should skip these and bake your Raspberry Honey Financiers, Biscochitos, or Earl Grey Tea Cookies  instead?  (That, if I do make these kiddie cookies anyway, I should eat each of them in two separate bites?)
Come to think of it, though, maybe there is a bit of a childish streak in my life right now.  Thanks to my recent job-loss, I'm leaning pretty heavily on Mom and Dad to make ends meet.  I found two whole quarters in an empty fitting room today and was really, really excited about it– and in the absence of pockets, carried them around in my shoe all day.  And, after picking up considerably more hours at my retail gig this week, I realized that it was rather childish, in recent times, to have whined so much about a job that is kind of saving my butt right now.
Oh, Martha.  You know me so well.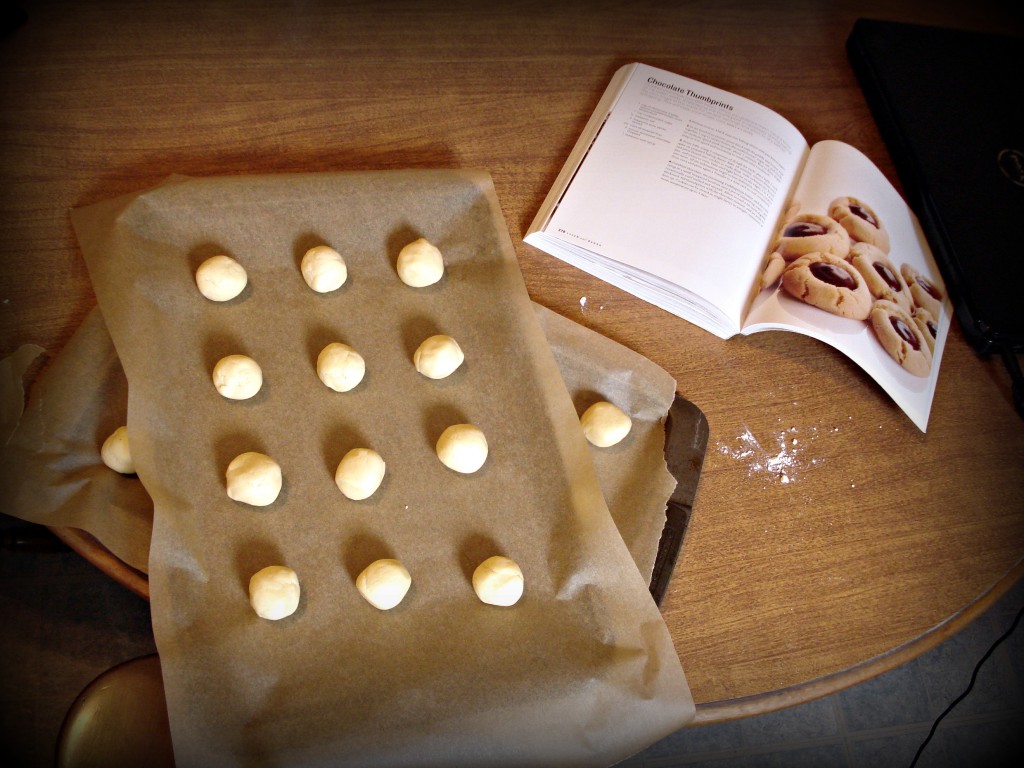 I can see why these are fun for kids, because they're super easy to make.  The dough comes together in about 2 minutes, and what kid wouldn't enjoy rolling cookie dough into balls?  Remind me to try these with my nephew in a couple of years.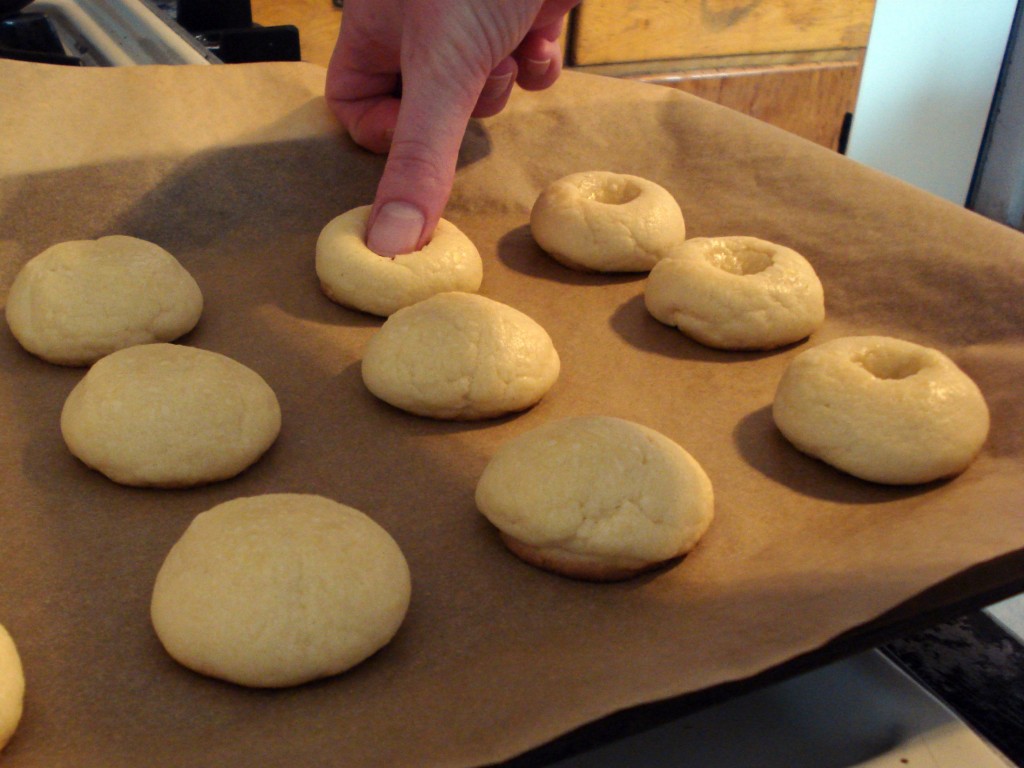 Tell you what's not very kid-friendly, though: burning the ever-loving crap out of your thumb because you plunged it into a cookie that just came out of a hot oven.  Oh, wait.  Martha says to keep a bowl of ice water handy to dip your thumb in pre-plunge, and whenever the process gets a little uncomfortable.  I just wasn't listening.  How childish.
Ok, maybe I exaggerate a little.  The cookies really aren't that hot; it just starts to smart a little after the first dozen or so.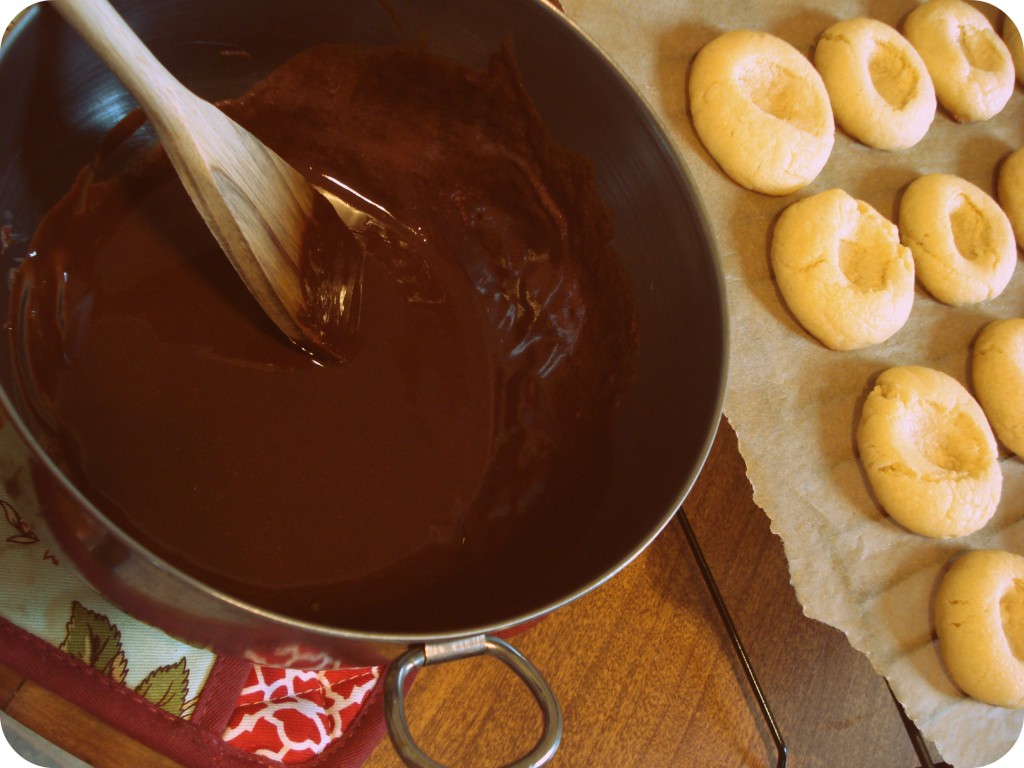 And if you're not like me, and have lately been behaving yourself like a good grownup, a bowl of melted chocolate is sure to make the kid in you smile.
Chocolate Thumbprint Cookies
from Martha Stewart's Cookies
1 cup (2 sticks) plus 3 tablespoons unsalted butter, room temperature
1 cup confectioner's sugar
1/4 teaspoon salt
2 teaspoons pure vanilla extract
2 1/2 cups all-purpose flour
3 ounces semisweet chocolate, chopped
1 teaspoon corn syrup
Preheat oven to 350 degrees.  Line two baking sheets with parchment paper.
In the bowl of an electric mixer, beat together 1 cup butter, the confectioner's sugar, salt, and vanilla on medium speed until smooth, about 2 minutes.  Beat in flour, beginning on low speed and increasing to medium until combined.
Form balls using 2 teaspoons of dough for each; place balls 1 inch apart on prepared baking sheets.  Bake 10 minutes, remove from oven, and press thumb into cookies to make deep, wide indentations.  Rotate pan, return to oven, and bake until light brown on the edges, 7 to 9 minutes more.  Transfer to a wire rack to cool completely.
Combine chocolate, the remaining 3 tablespoons butter, and the corn syrup in a small heatproof bowl set over a pot of simmering water; stir occasionally until melted and smooth.  Allow to cool until slightly thickened.  Fill thumbprints with the chocolate mixture (Martha doesn't offer any helpful hints here– I just poured it in with a spoon), and set aside to firm up.