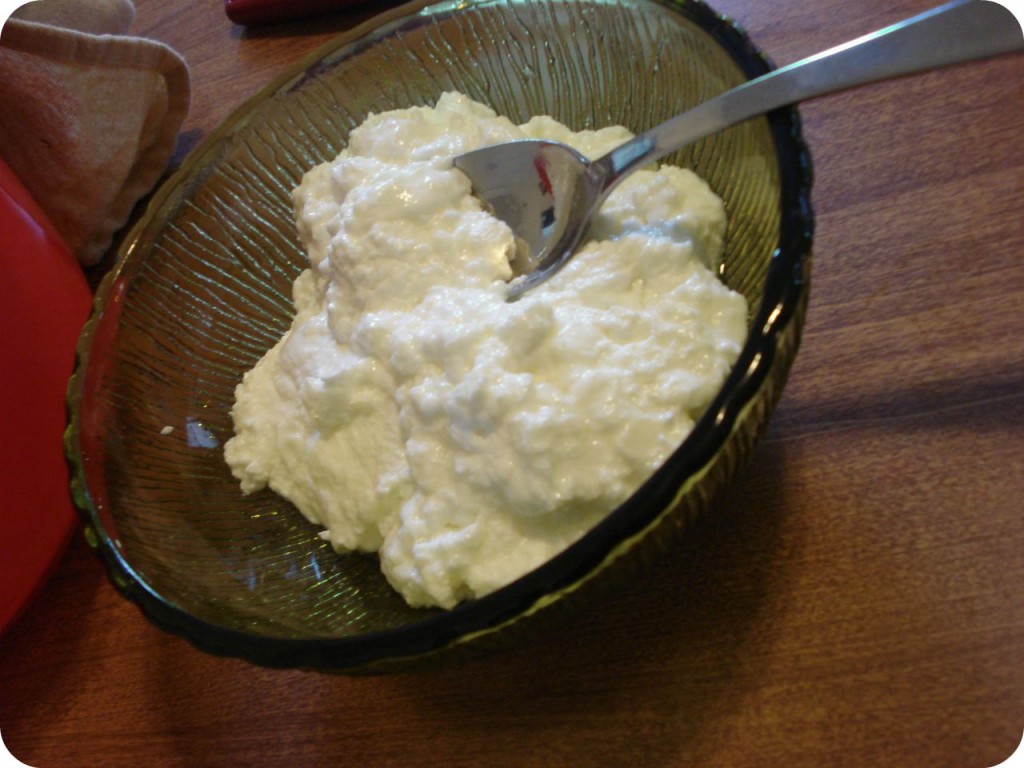 There are some kitchen projects that are completely easy and unintimidating, like quick pancakes or no-cook pesto.  There are some that can be a bit more labor-intensive, but still fun and calming, like yeasted bread.  And then there are some that scare the pants off me.  This is one of the scary kind.
I've wanted to learn how to make cheese for years, since my kitchenless dorm days, at least.  But somehow, I've never gotten around to it until now.  And by "I've never gotten around to it," I mean, "I've been dodging the task."  For a while, my excuse was that cheese making supplies were hard to find.  There was a place in Somerville that I knew sold everything I needed, but come on, it was allll the way at the end of the red line, and then a lonnnnng walk from the T stop.  Like, a whole mile!  Yes, I knew that all my necessary supplies were also readily available online, but who has the money to fork over for shipping and handling, am I right?
Then, last summer, I found myself working once a week at a farmers market that was about a 10 minute walk from that shop in Somerville.  But I found a summer's worth of excuses and still didn't go.
Finally, as I was wandering the aisles of Harvest Co-op last month, I found it: a tiny bottle of rennet staring me down…judgingly.  So, naturally, I snapped it up, took it home, and promptly ignored it for another several weeks.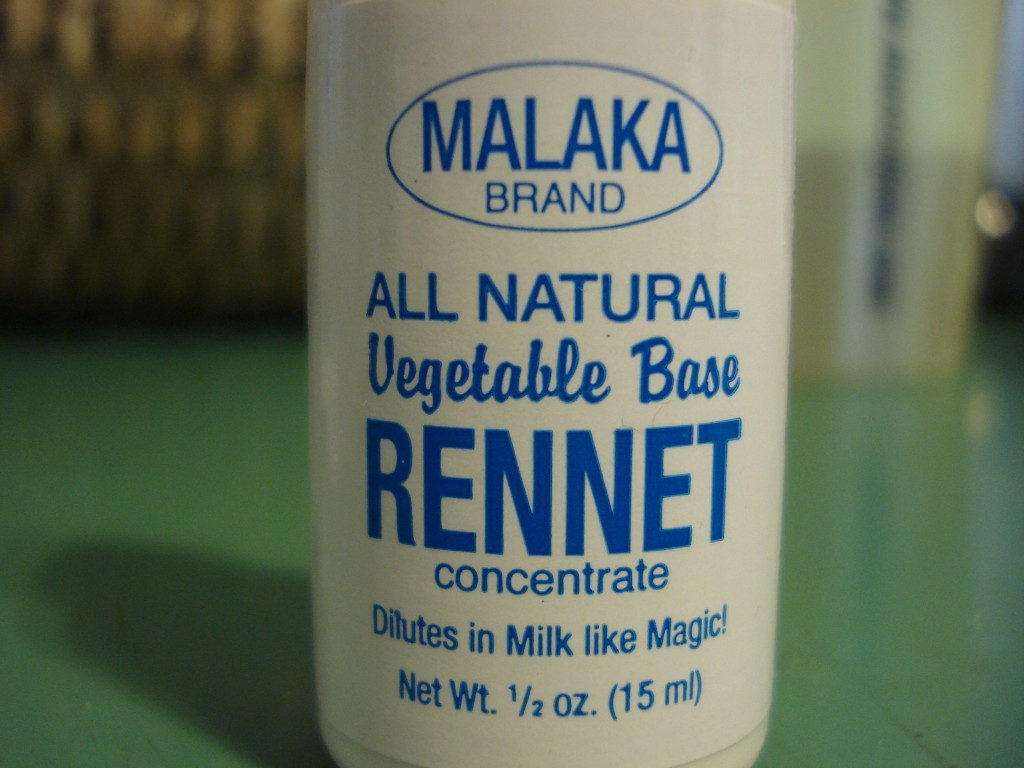 What was my hangup with this cheese making thing?  It's been at the top of my to-do list for ages.  I've borrowed the public library's copy of The Home Creamery so many times they practically keep it on a special shelf for me.  I've toyed with the idea of applying for a job on a goat farm as a cheese making apprentice.   What kept me from just rolling up my sleeves and giving it a go?
Perhaps it was a certain sense of foreboding, the thought that this could be either one of my greatest kitchen triumphs, or a total train wreck.   Of course, like most first attempts at anything, this one fell somewhere in the middle.  It was about equal parts exciting and frustrating, and while I was mostly thrilled with the final product, there was still a twinge of disappointment that it hadn't turned out just exactly like I'd expected.  But the important thing is that I finally buckled down and gave it a shot—and I deemed the results blog-worthy.
The first big surprise I encountered was how long it takes to heat a gallon of milk to 180 degrees.  Granted, you could probably do it in no time at all over a high flame, but I remember one of my earliest attempts to use the stove when my parents weren't around, and it ended with an incredibly scalded pan of milk, and I don't have much desire to experience that again.  Slow heating is the way to go.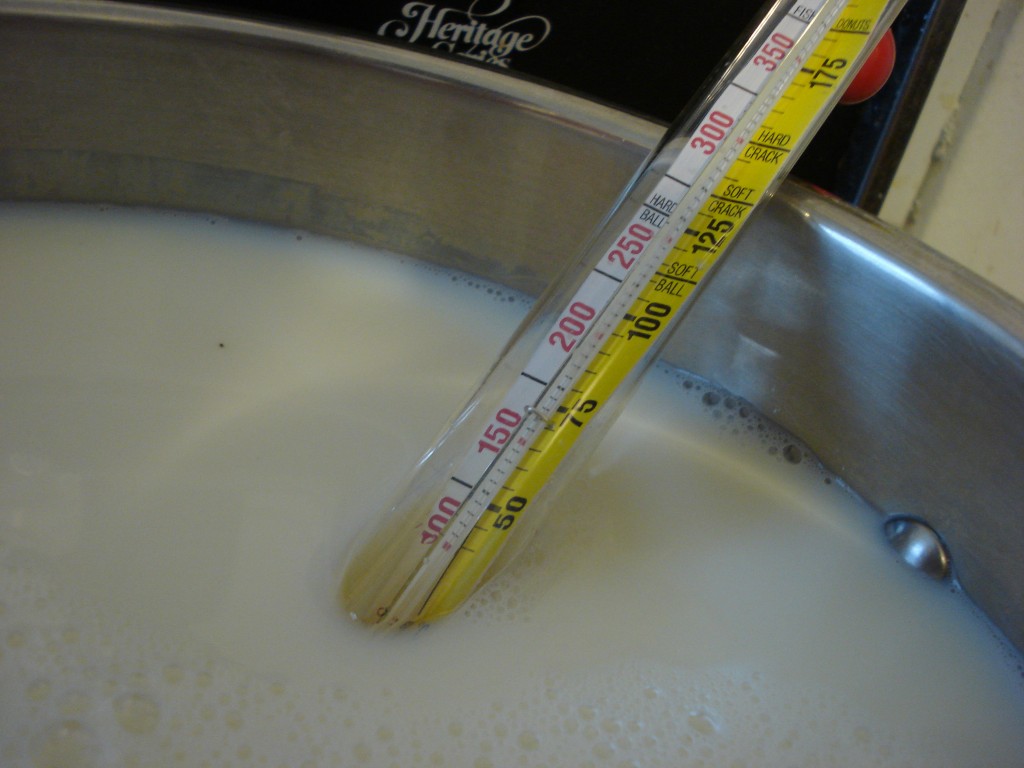 Second surprise: it takes almost as long to let the milk cool down again to the point where you can add the rennet.  I don't know as much as I probably should about the science of cheese making, but I assume the idea here is to heat the milk enough to kill any potentially harmful bacteria, and then cool it enough to not kill the rennet.  At any rate, this whole heating and cooling process took me about an hour, but after that was done, in went the rennet, diluted in water, and a bit of buttermilk (its cultures help to kickstart the whey/curd separation process).
Surprise number three, which honestly should not have been a surprise at all: things often take longer than you think they will.  That's why it's unwise to try anything new and potentially complicated when you're on a fairly fixed schedule—but if you're like me, and your entire life is a fixed schedule, then this is just something you'll have to roll with.  My recipe suggested that the curds and whey would separate in 12 to 18 hours, so I cooked, cooled, and rennet-ed the milk late one afternoon when I knew I'd have a few hours to work with the next morning.  Then, 12 to 18 hours later, when I uncovered my cheese pot, what I found was certainly not curds and whey, but something resembling lumpy milk.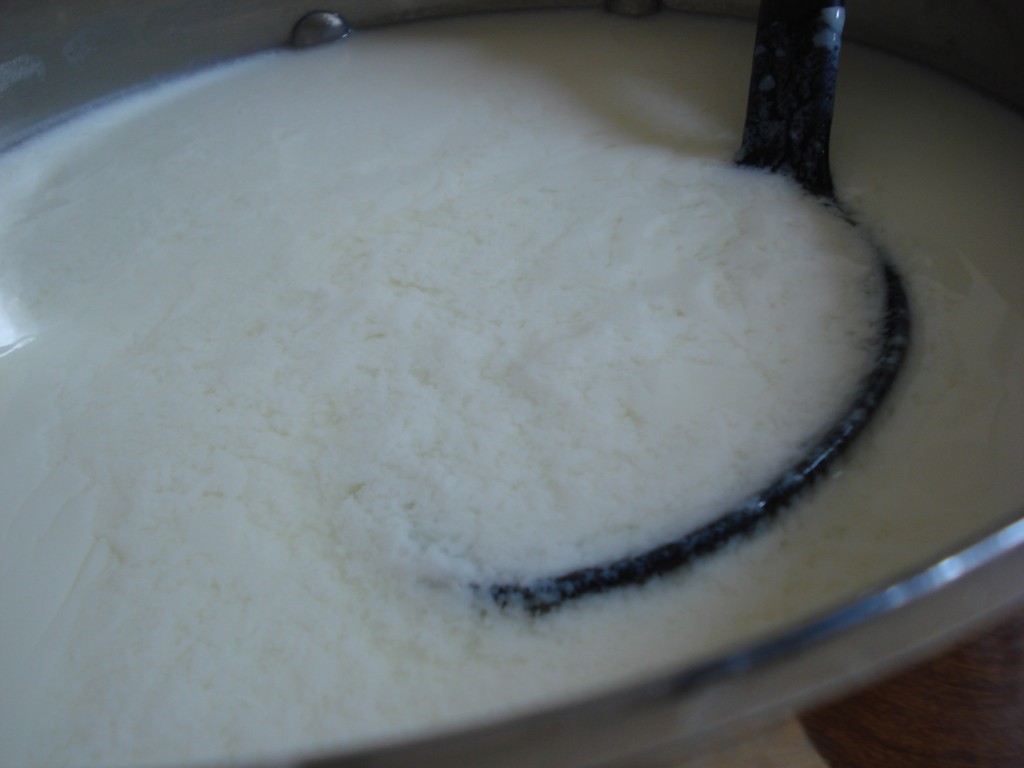 So what to do?    It seemed that things were progressing as they should, albeit much more slowly, but I had to get ready for work in about two hours.  I had no idea if it was safe to leave the whole mess out at room temperature all day, since I wouldn't get home again for hours, but I figured it was better to give it a shot than to let the whole thing—time, ingredients, effort—go to waste.
Fortunately, when I got home that night and checked in again, the cheese had progressed just as the recipe said it would.  (I took a picture of the curds with the whey on top… but I'm not so sure you want to see that.)
Fourth and final surprise: the cheesecloth in my pantry was quite possibly cut in the most useless shape for cheesemaking I could imagine.  My cheesecloth was several feet in length, but impossibly narrow, and wrapped mummy-style around a piece of cardboard.  The idea was to drain off as much of the whey as possible, spoon the curds into your cheesecloth, and tie it up into a poultice… but when you're dealing with about a nine-inch width of cloth, that's practically impossible.  Just look at it folding over pathetically.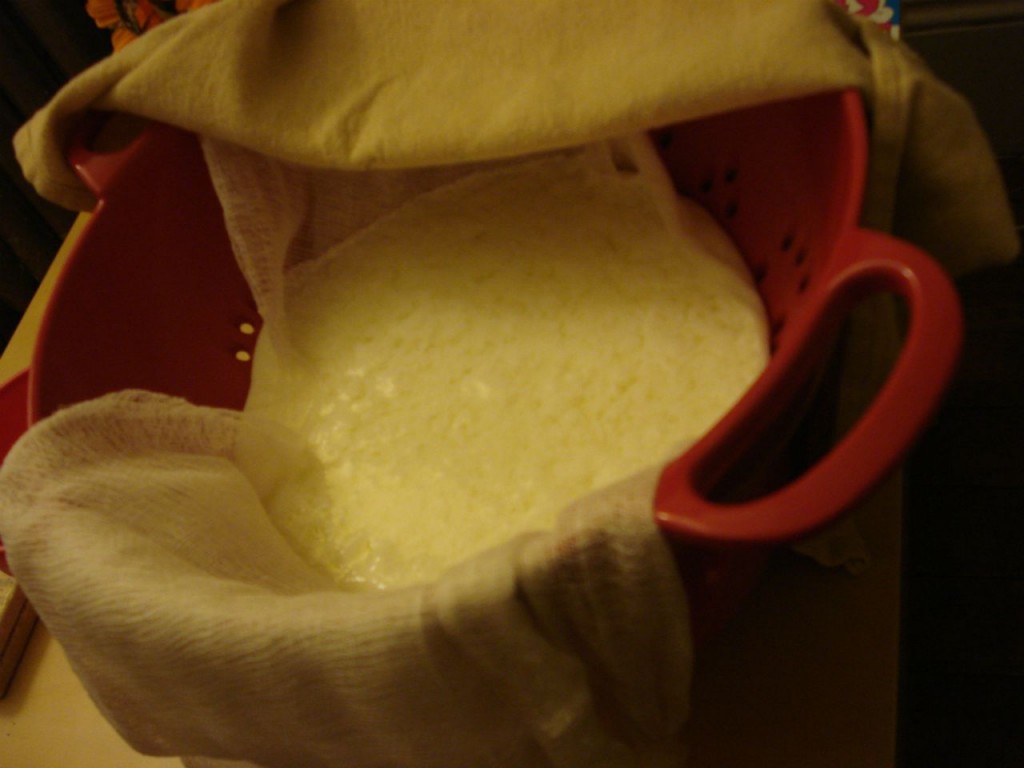 Once again, my fine-mesh sieve saved the day.  It was fine enough to keep the curds from falling through, and fit just perfectly on top of an empty bowl, allowing for excellent draining.  Seriously, I think my sieve deserves a place of honor in the kitchen, maybe on a gold-plated, jewel-encrusted hook.  I'll get right to work on that.
Finally, finally, after two bewildering days of cheese making, I ended up with what you see in the first photo.  After some vigorous whisking, it looked more like this: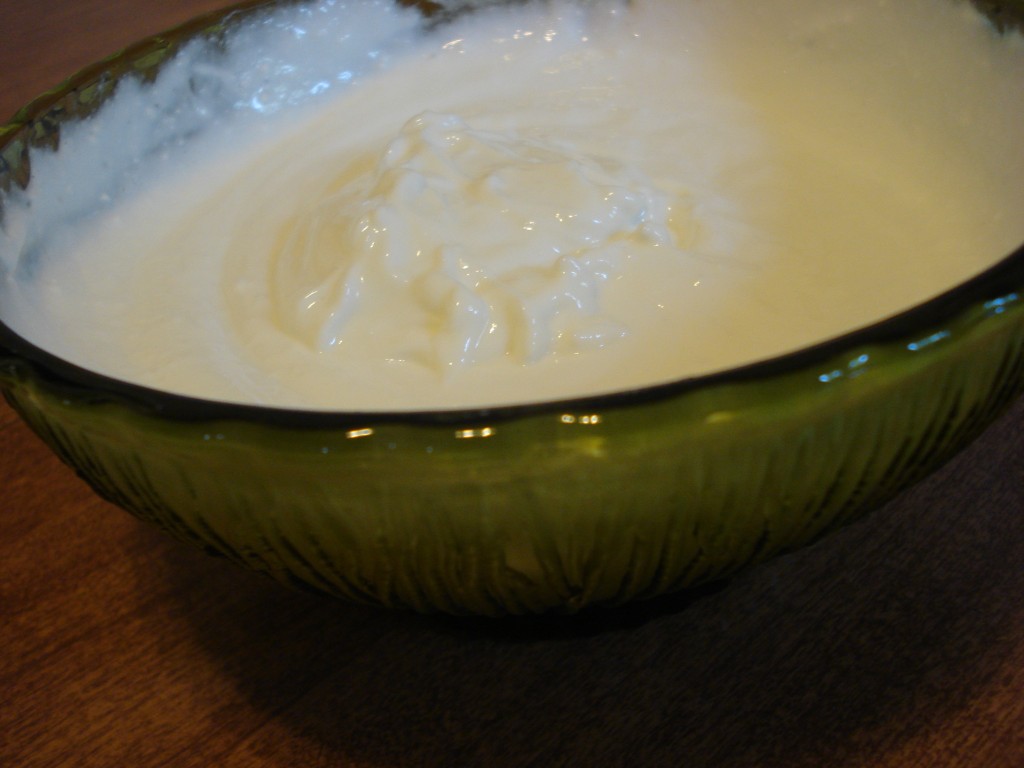 I really and truly made cheese.  It tasted good!  It looked good!  It was especially tasty when mixed with honey and spread over a crumpet.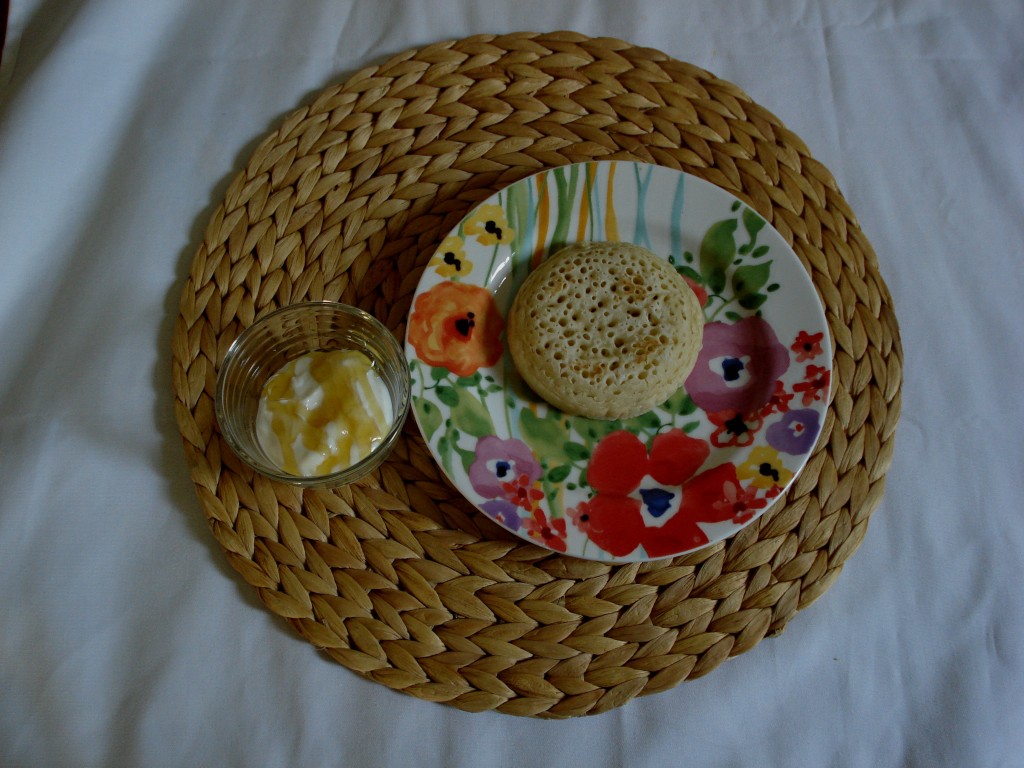 And now that I've knocked out that awkward first attempt, I'm all the more anxious to jump in again, correct my mistakes, and take on even more recipes.  Take that, to-do list!
Swiss Style Cream Cheese
(This is a recipe that came with my bottle of rennet)
1 gallon skim milk
1/4 cup buttermilk
1/2 cup water
5 drops liquid rennet
Heat milk to 180 degrees F.  Dilute liquid rennet in water.  Let the milk cool back to 85 degrees F, add buttermilk and rennet solution, and stir well.  Cover with a towel and leave at room temperature for 12 to 18 hours (ha!) until firm curd forms and whey appears on the surface.
Gently lift curd with a large spoon and place in a bowl lined with cheese cloth or special dairy cloth.  Lift four corners of the cloth and tie them together with kitchen twine; hang above the sink to drain for 2-3 hours, or until most of the whey has drained.   (Or use a fine-mesh sieve if your cheesecloth is weirdly shaped, and let it drain over a bowl.)
Place cheese in a bowl, add salt, and whisk until smooth.