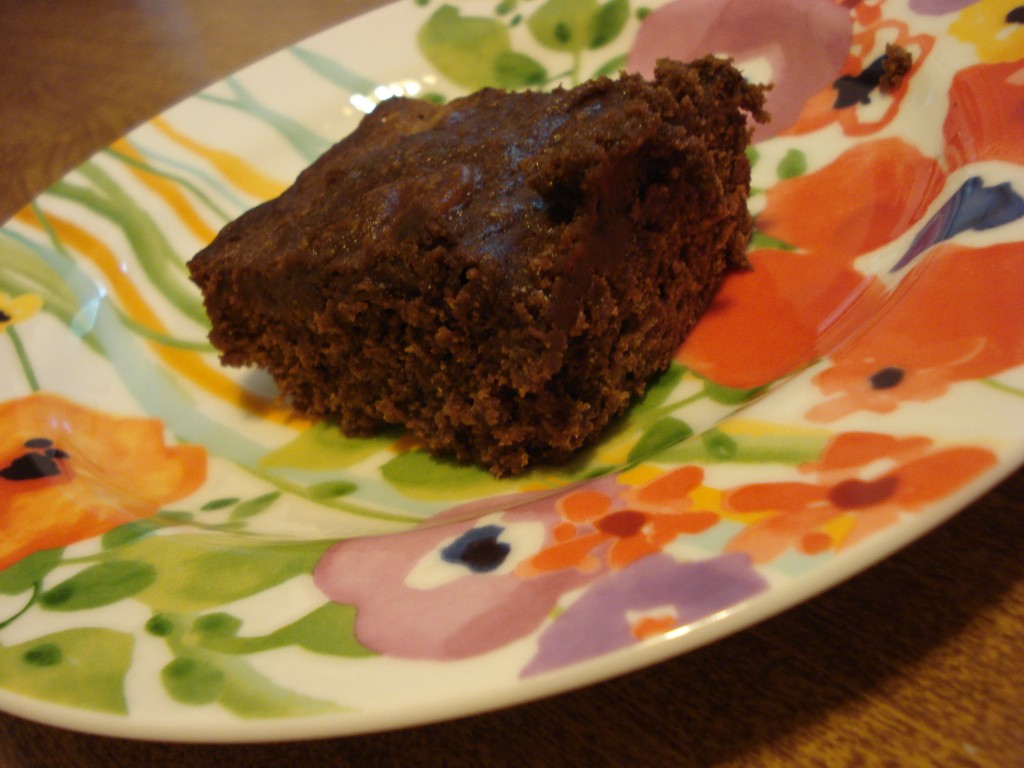 I've had plenty of practice lately with turning life's lemons into lemonade.  Don't worry, I'm not about to talk about jobs or money—I'm going to talk about freeze-dried bananas.
As I might have mentioned before, I have a weak spot for less-than-healthy snacks.  Banana chips have been at the top of my favorite unhealthy food list for a while.  Granted, there are many worse things than banana chips, but they are fried and full of oil, and while that's never stopped me before, there's also nothing wrong with looking for a healthier alternative.  So when I spotted freeze-dried banana chips (sole ingredient: bananas) on the shelf at Target, it seemed like a good idea to pick them up.
It was absolutely not a good idea.  I took one bite and immediately wanted my $2.50 back.  It wasn't so much that they tasted bad (although they tasted very ripe, and I weirdly prefer my bananas with a little green still on the skin), but the texture was unbearable.  It was like biting into a sticky packing peanut.
So there I was, stuck with a snack I was never going to eat, and out $2.50.  Ok, I'm going to talk about money a little: every little quarter counts these days.  That doesn't mean I don't sometimes shell out an unreasonable two dollars for a simple cup of coffee, or something equally unnecessary, but I don't want to just throw away money, either.  I really felt the pressure to figure out some other use for these bananas.
I have a secret to share with you: I also had a batch of homemade cheese on my hands that I didn't really want to eat.  I know; I told you it tasted good.  And it did… but it tasted more like sour cream than cheese, and while I'm a huge fan of sour cream, no one really wants to spread that on a bagel.
The solution for this problem came to me from The Modern Baker.  I adore this book.  It doesn't just give you recipes; it really teaches you how to bake.  I actually have The Modern Baker to thank for showing me how to solve my cookie problems.
As I was flipping through it a few days ago, just for kicks and giggles, I spotted a recipe for sour cream brownies.  It occurred to me that this might be just the thing for getting rid of my homemade cheese—and then I realized that it would also be perfect for those stupid freeze-dried bananas!  If everything went according to plan, the moisture of the batter would rehydrate the bananas, and then the heat of the oven would break them down entirely.  And by golly, that's just what happened.  The final product was the most deliciously moist brownie I've ever had, with a kick of banana flavor, but no noticeable fruit chunks.  Problem deliciously solved!
Bad decision (bananas), meet good decision (book).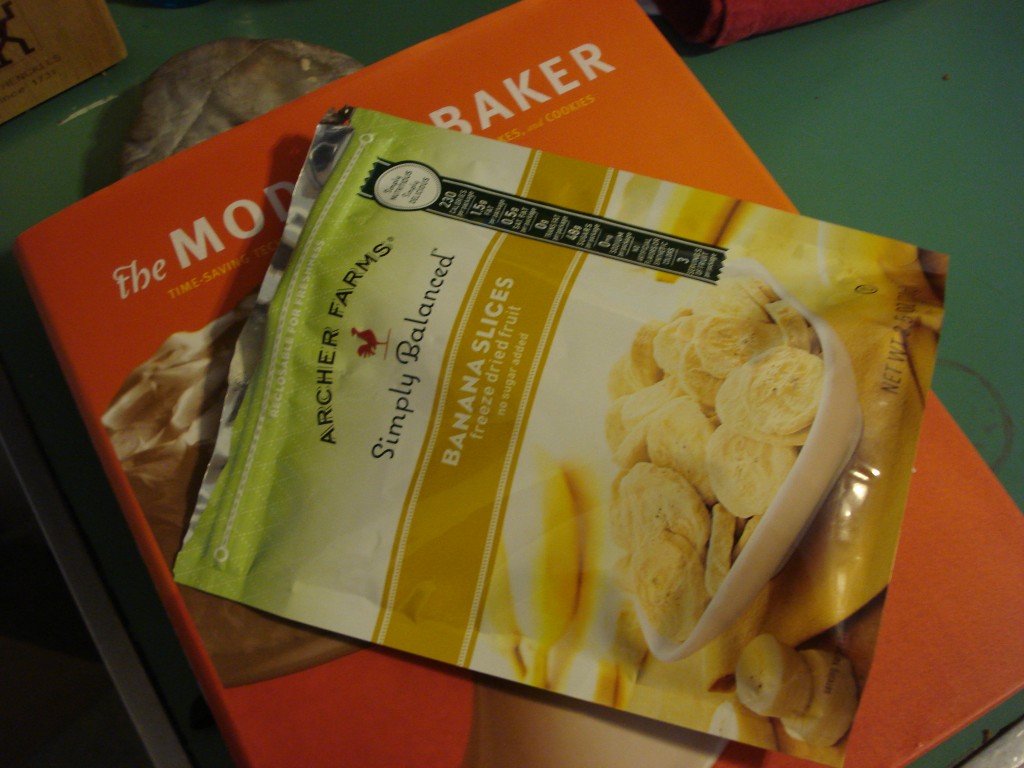 Most of the brownies I've ever made came from a box, but it's hard to argue with a recipe that begins with melting butter and chocolate chips.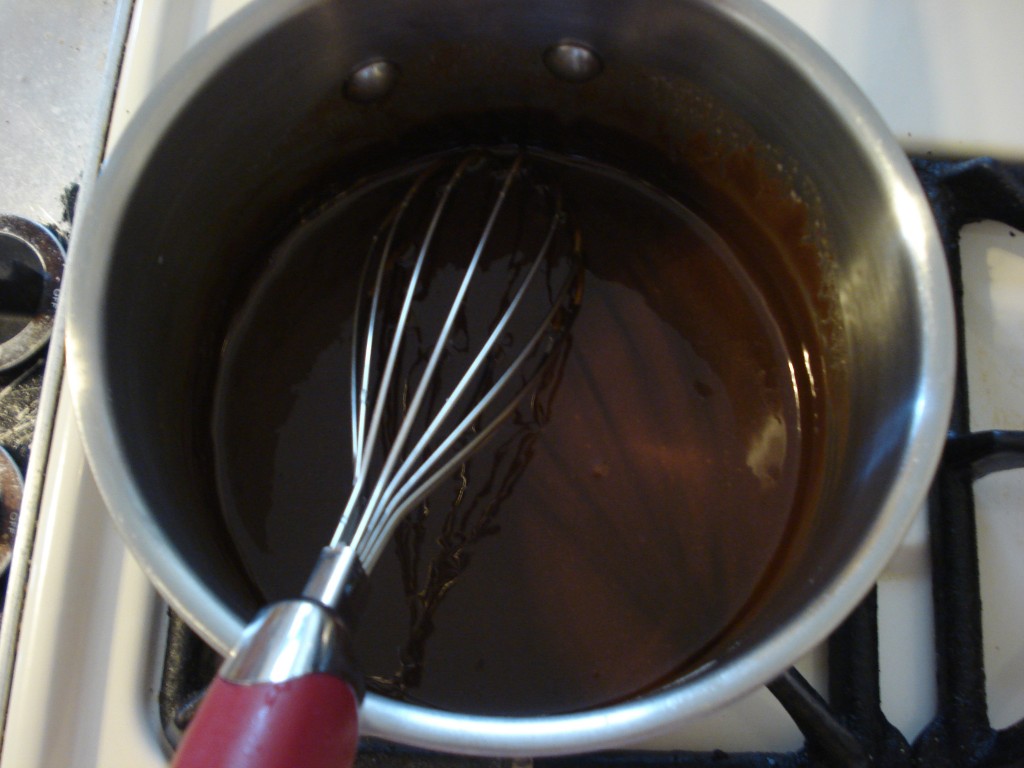 And, when you stir your melted chocolate into the batter, you get a psychedelic chocolate swirl.  Unbeatable.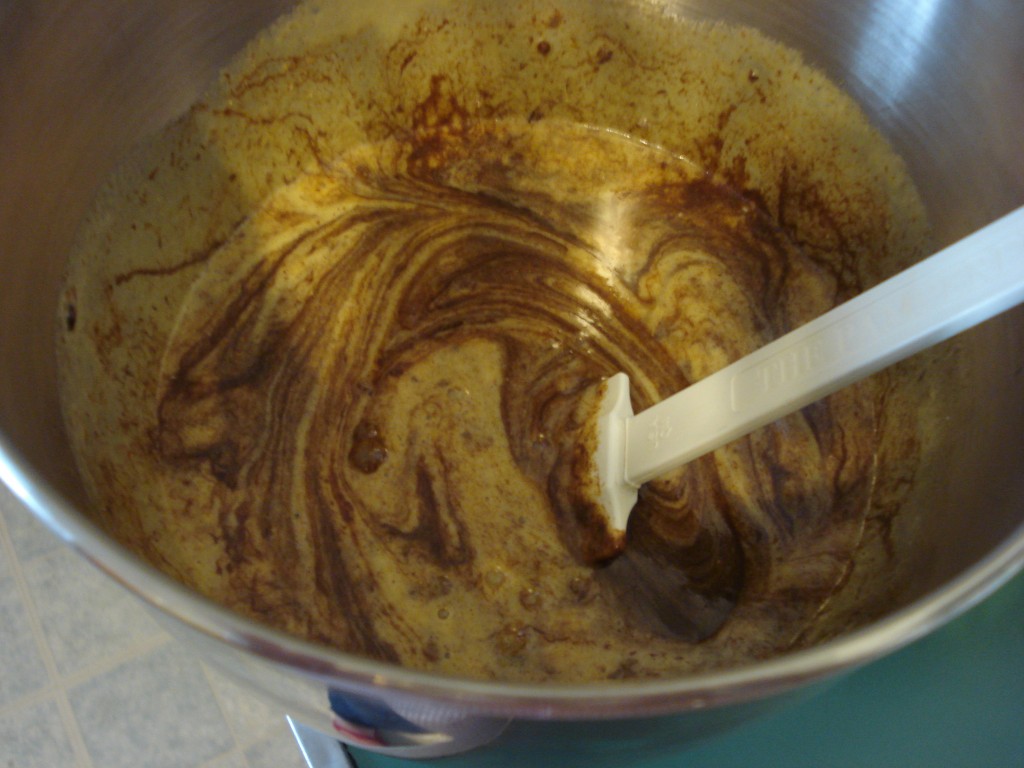 I don't have a kitchen scale, so measuring out the chocolate for the brownies was a little tricky.  I eyeballed it, but after tasting my batter, I decided I'd underestimated, so I tossed in some cocoa powder until it tasted like I wanted it to.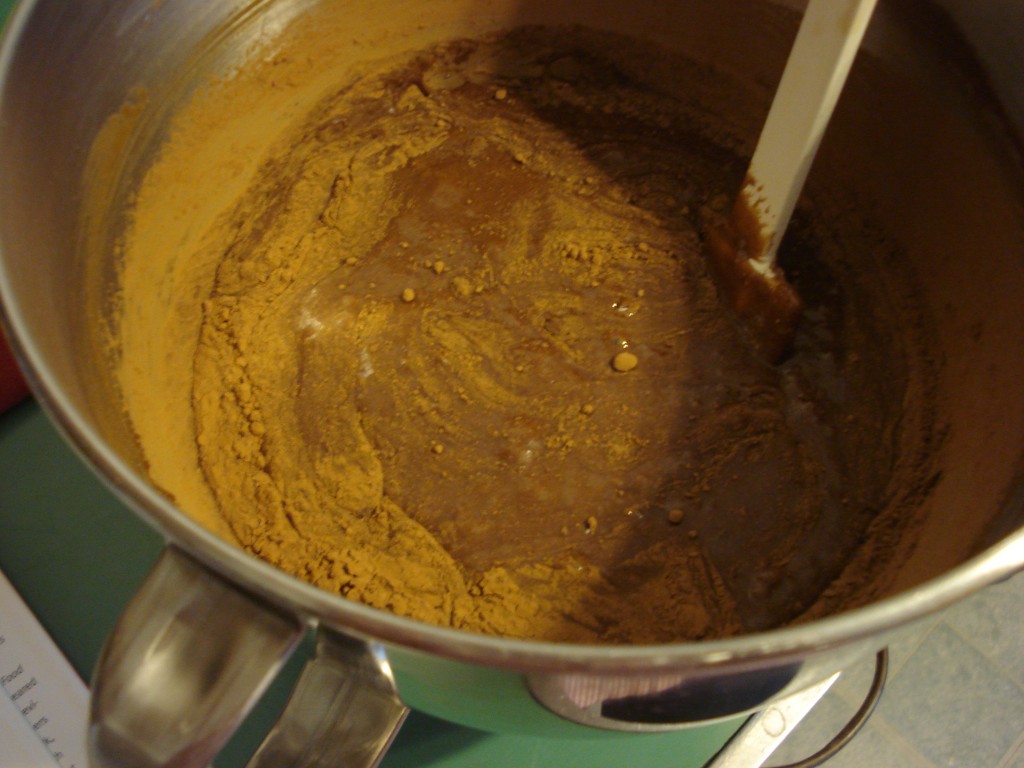 And, finally, in went those crazy dried bananas.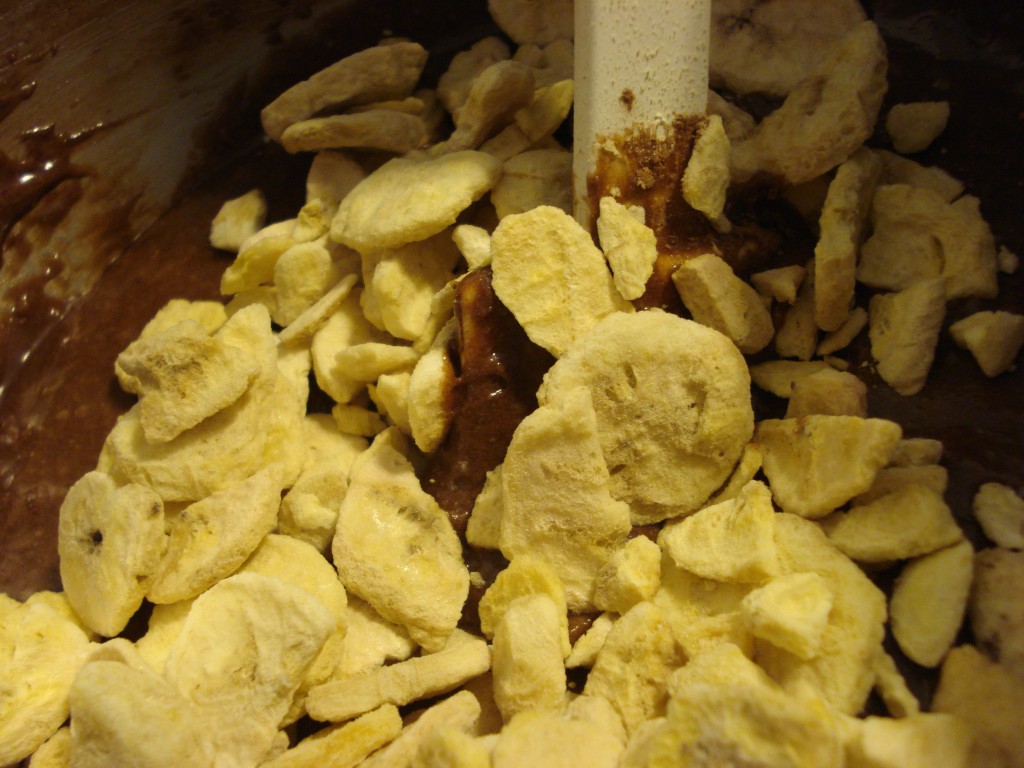 Note to self: never look away while pouring brownie batter into the pan.  You will miss the pan.  Any ideas on how to get brownie batter out of that black hole underneath the burner?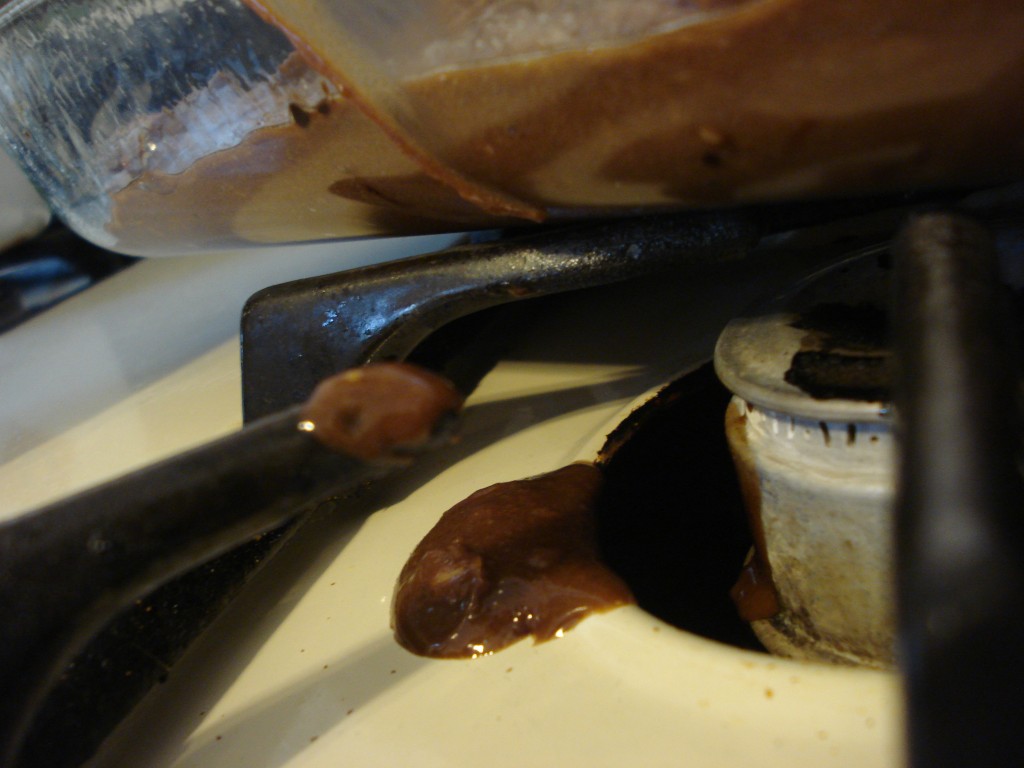 And there's the story of how I took a big, fat, bad snack lemon and turned it into delicious, chocolatey lemonade.  Wait, what?
What's that saying– "Bad food decisions are the mother of invention"?  No? Maybe it was "avoid freeze-dried food unless you're about to launch into space or hike the Appalachian Trail."
Well, I'm just glad it worked out this time.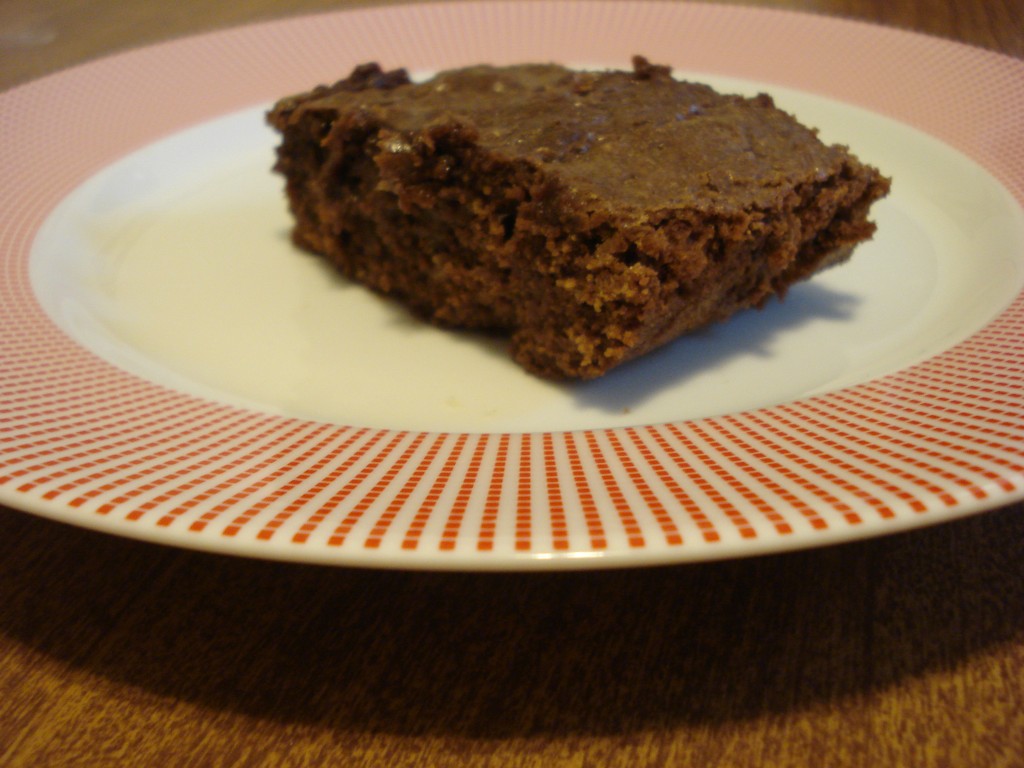 Banana Fudge Brownies
adapted from The Modern Baker
6 ounces (1 1/2 sticks) unsalted butter
7 ounces bittersweet chocolate
1 3/4 cups brown sugar, firmly packed
4 large eggs
1/2 cup soft, unripened cheese/farmer's cheese (or store-bought sour cream)
1/2 teaspoon salt
3 teaspoons vanilla extract
1 1/2 cups all-purpose flour
2 large handfuls of freeze dried banana slices (or 2 fresh ripe bananas, sliced)
Preheat oven to 350 degrees.  Put the butter in a medium saucepan and place over medium heat.  Let the butter melt, stirring occasionally, then allow it to bubble for about 10 seconds.  Remove the pan from the heat and add chocolate; whisk until smooth.
Place the brown sugar in the bowl of an electric mixer.  Beat in 1 egg on the lowest speed; add the remaining eggs, one at a time, beating until smooth after each.  Add the cheese (or sour cream), salt, and vanilla, and beat until smooth.
Remove the bowl from the mixer and use a rubber spatula to mix in the chocolate and butter mixture.  Add the flour, and then add the banana slices.
Scrape the batter into a 9×13 baking pan, coated with cooking spray.  Bake until the brownies are firm, but still moist in the center, about 30 minutes.  Cool the brownies on a rack before serving.