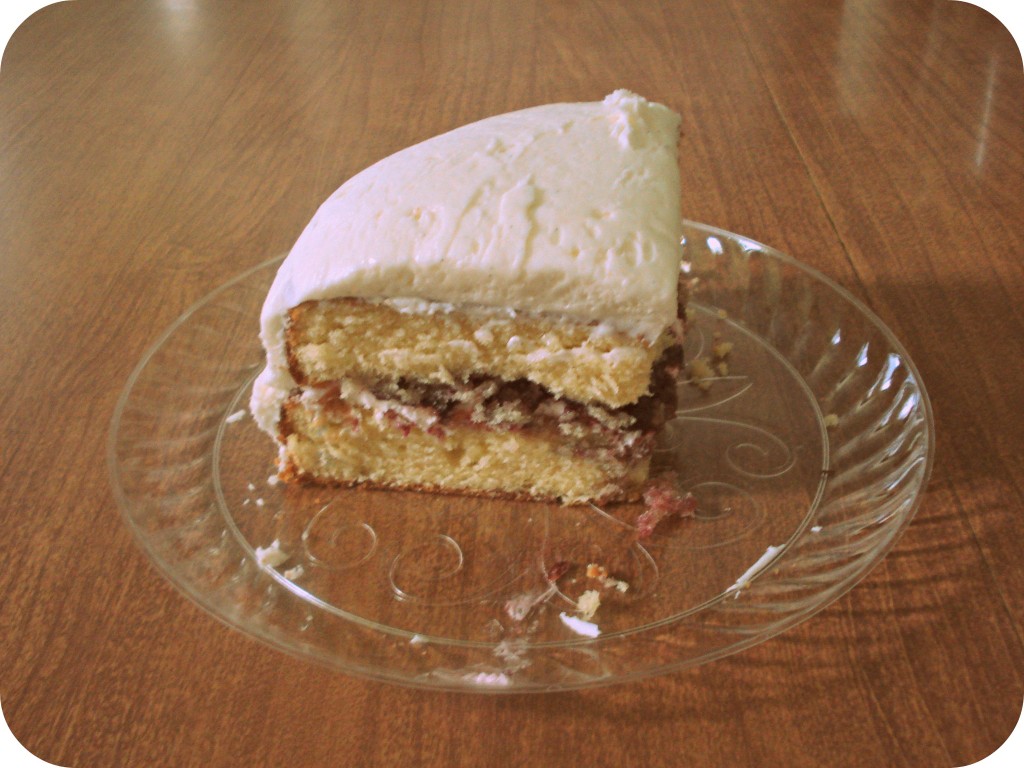 Well, friends, I am officially a quarter-century old.  I just capped off a week of celebrations, and I am completely floored by all the love that came my way.  I was regaled with phone calls, Facebook posts, songs, and cards, as well as cookbooks, records, Cheetos (of course), dishes, fancy spices, wine… and a gorgeous watch from Alex.  I can't even process it all right now, except to say that I am absolutely sure I have the best friends and family in the world.  No question.
So now that I've hit the 25-year mark, am I officially old and wise?  Here are a few things I've learned over the past two and a half decades.
1.  It's best to ask your mom if you can have a piece of candy *before* you shove said candy in your mouth.   I learned that one around age six.
2.  People will look at you funny if you show up at school with all your hair in tiny braids (age 8), or in Princess Leia buns (age 10), or Poison Ivy horns (age 11).  You'll also get some looks if you hack your hair into a pixie cut when no one else is really on board with that style yet (age 19).  But go for it anyway.  Embrace your weirdness and own it.  And, if you're a mom, be like my mom and just let your daughter do whatever stupid thing she wants with her hair, and never tell her she looks like a fool.
Bonus lesson: If you are a white girl like me, putting all your hair in tiny braids will NOT make you look like Brandy.  Sorry.
3.  The problems you experience in middle school will seem hilarious one day (helloooo, ages 11–13).  Go ahead and write 'em down, with as much angst as possible.  Your future self will get a good laugh out of it.
4.  It's ok to be the girl who studies all the time.  It'll serve you well in the future.  But you should probably allow your roommate to steal your books and drag you away from your desk from time to time.  Thank you, Chrys.  (Age 19.)
5. Go ahead and move across the country.  Spend some time in the city, and meet people who are nothing like you.  Learn to pay your own bills, cook on a tight budget, and deal with mice in the kitchen.  (Age 22.)
6. This.  (Age 24.)

Yep, I do sound pretty wise.  Now let's talk cake.
No matter how old I get, I hope I always eat cake on my birthday.  I hope my birthday cake is always piled high with buttercream frosting, and served with a big helping of fruit.  This year, I decided to make a cake inspired by one I had in Dothan several birthdays ago– vanilla cake with mouthwatering blueberry filling.  Oh lord, that leftover hunk of cake in the kitchen is calling my name something fierce… but I must focus.
On the day of my birthday party, I woke up early and baked the cake right away.  I might have mentioned how hot my apartment is in the summer (I might have mentioned this many times), and I wanted to be sure the place had plenty of time to cool off after an hour of oven use.  I don't know what kind of magic was at work in my kitchen that morning, but these were the most beautiful cakes I have ever made.  I must have oohed and ahhed and fussed over them for about an hour.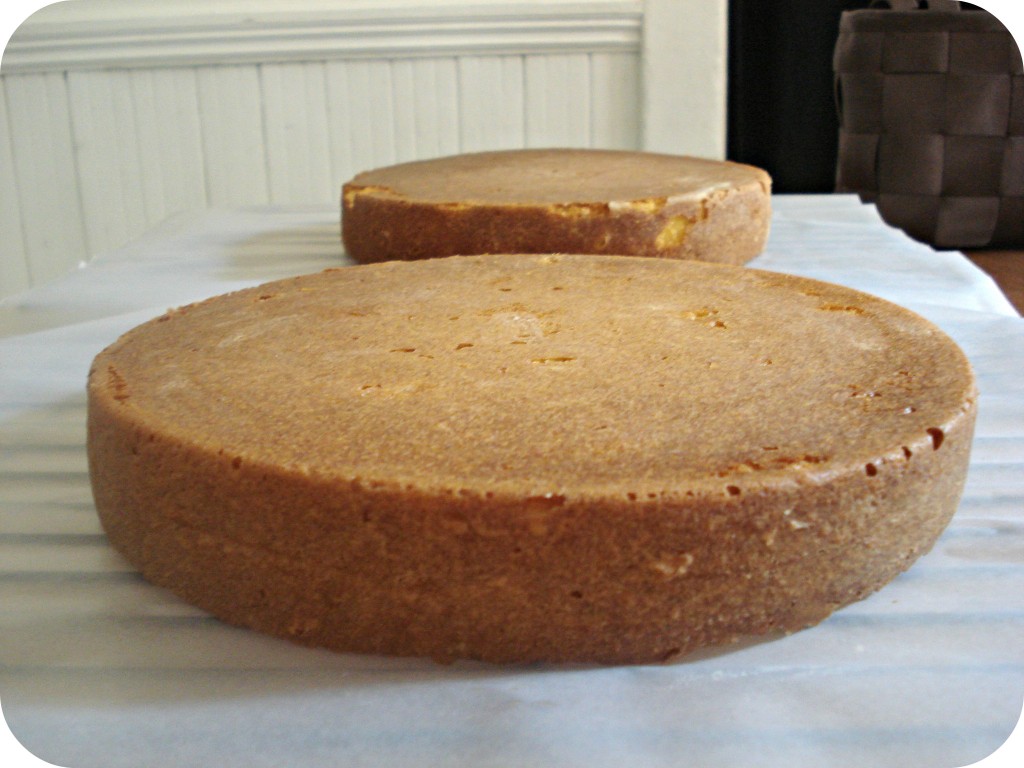 Although I have absolutely zero objection to plain vanilla cake with vanilla buttercream, the appeal of a blueberry filling is undeniable.  My original plan was just to fill the middle with berries, but a layer of jam also sounded appropriate.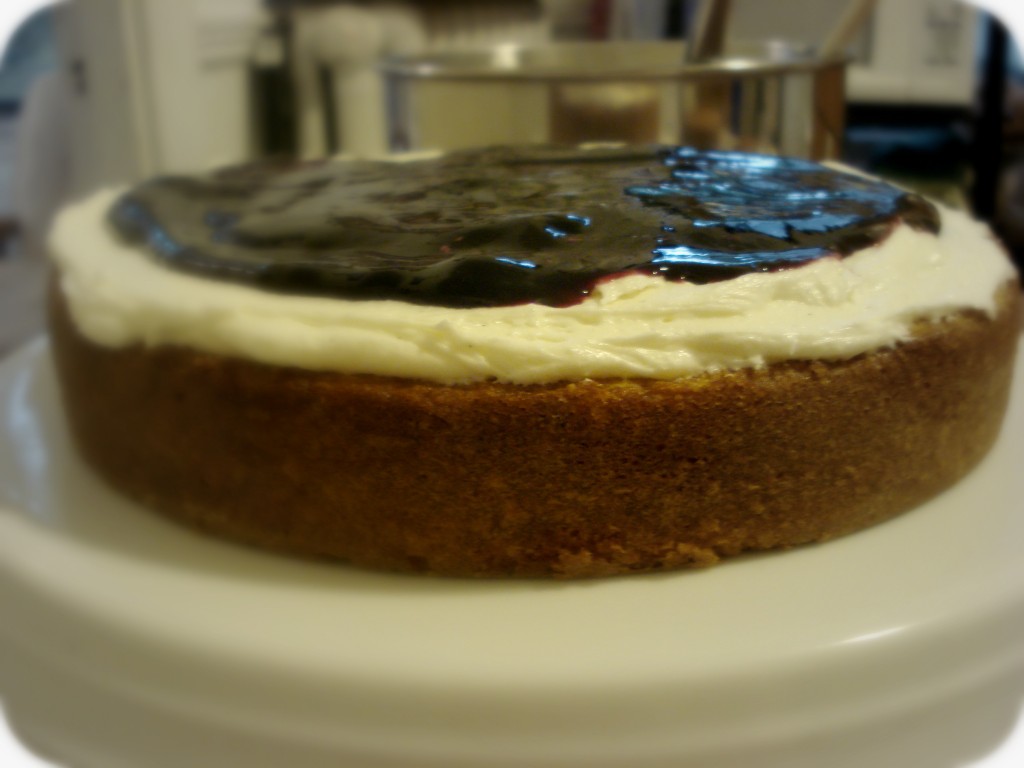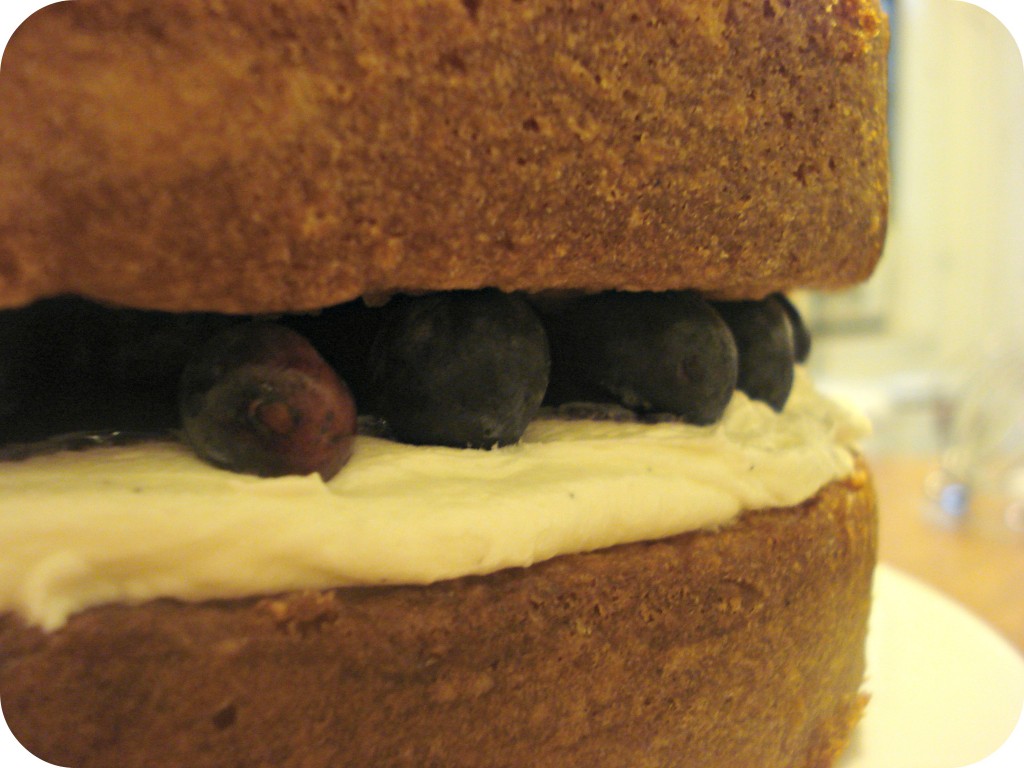 Dear frosting… dear, dear buttercream frosting.  If there was no such thing as calories, and weight maintenance was a non-issue, I would shovel buttercream into my face 24/7.  And not the elegant, smooth, less-sugar-more-butter kind– we're talking the two-boxes-of-powdered-sugar kind.  As I was making this batch, I realized that I had run out of vanilla extract (I'd used the last of it in the cake), but I did have a couple of vanilla beans on hand.  I really liked the vanilla flecks in the otherwise plain white frosting.
And, since two of my party guests also had birthdays during the same week as mine, I decked out the cake with all our names.  It was Terence's idea to skewer a blueberry onto each toothpick, and I liked that it was a little hint as to what was waiting inside the cake.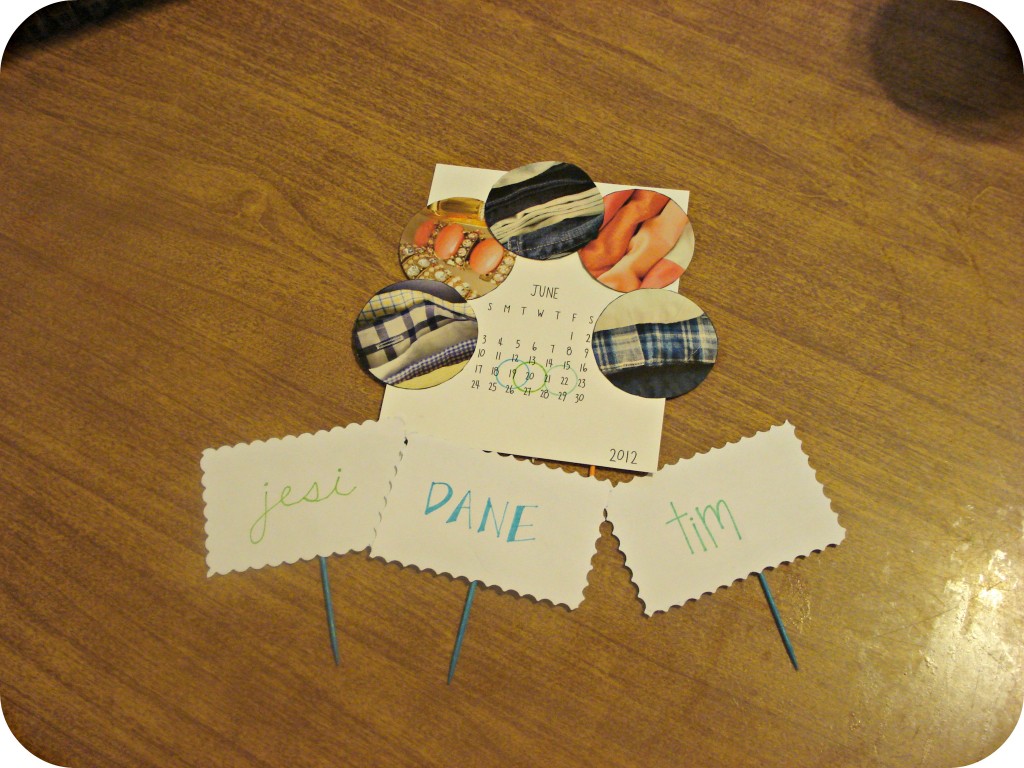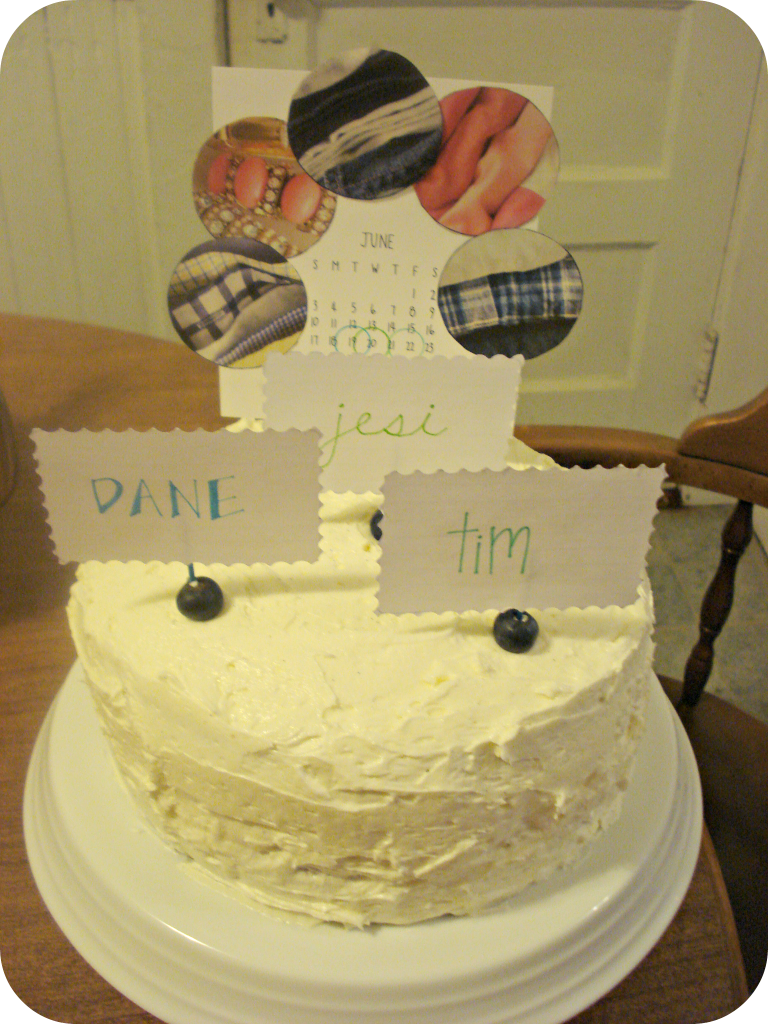 Now, I know that few people have a sweet tooth as uncontrollable as mine, but if the entirely clean plates littering my kitchen were any indication, this cake has universal appeal.  I'd say it was a total win.
And so ends the week of celebration; life can now go back to normal, and I can go back to absorbing life lessons.  But, you know, I think I could get used to this cake baking business. If anyone else has a birthday coming up and requires a cake… well, you know whom to call.
Versatile Vanilla Cake
from Martha Stewart 
1 cup (2 sticks) unsalted butter, room temperature, plus more for pans
2 1/2 cups all-purpose flour (spooned and leveled), plus more for pans
1/2 teaspoon baking powder
1/2 teaspoon baking soda
1 teaspoon salt
1 1/2 cups sugar
2 large eggs
3 large egg yolks
2 teaspoons pure vanilla extract
1 cup low-fat buttermilk
Preheat oven to 350 degrees. Butter and flour two 8-by-2-inch cake pans, tapping out excess flour. In a medium bowl, whisk flour, baking powder, baking soda, and salt.
In a large bowl, using an electric mixer, beat butter and sugar until light and fluffy. With mixer on low, beat in eggs and yolks, one at a time. Beat in vanilla. Alternately beat in flour mixture and buttermilk, beginning and ending with flour mixture; mix just until combined.
Divide batter between pans; smooth tops. Bake until cakes pull away from sides of pans, 32 to 35 minutes. Let cool in pans 10 minutes. Run a knife around edges of pans and invert cakes onto a wire rack. Let cool completely.
Classic Americana Icing
from Organic and Chic 
2 sticks (1 cup) unsalted butter
7 cups (about 1 3/4 pounds) powdered sugar
3 tablespoons milk
1 1/2 tablespoons vanilla extract (or the seeds of 1 vanilla bean)
In an electic mixer, whip the butter on medium speed until pale and fluffy about 3 minutes.
Add 4 cups of the powdered sugar and mix on low speed, scraping down the sides of the bowl while combining.  Raise the speed to medium for 30 seconds.
On low speed, add the milk and mix until combined.  Add the remaining powdered sugar and scrape down the sides of the bowl.
Add the vanilla and scrape the sides again.  If the frosting seems too soft, add more sugar in 1/2 cup increments until it becomes thick and fluffy.
*I tend to take a much more free-spirited approach to this icing; I don't think I measured any ingredients other than the butter.  Just play with it until it has the taste and consistency you want.
**To turn these elements into the blueberry vanilla cake, simply frost the top of the bottom cake layer, then gently spread several spoonfuls of blueberry or blackberry preserves on top, and cover the preserves with a layer of fresh blueberries.  To ensure that the second cake layer is level, make a ring of blueberries around the edge of the bottom layer, and then fill in the ring with berries as you wish.