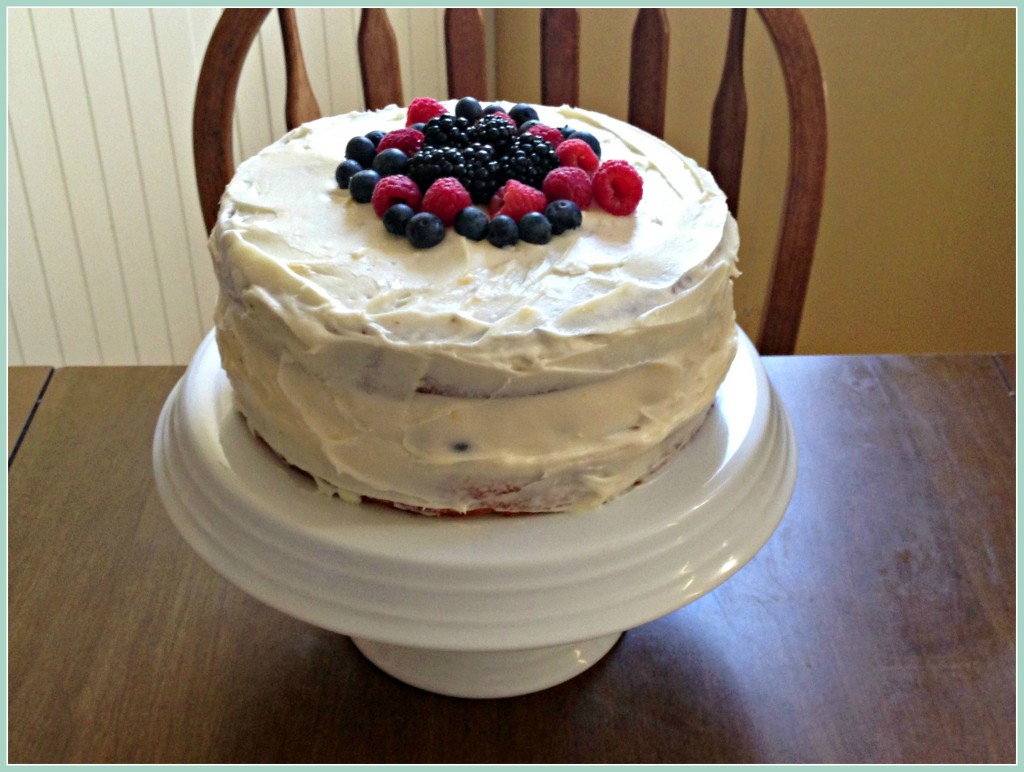 A few weeks ago, Alex and I took a brief trip to Alabama to work out a few wedding details: food, church arrangements, flowers, that kind of thing.  And when I say brief, I mean that we touched down in Alabama on a Sunday around noon, and didn't stop moving until we were back on the plane on Tuesday afternoon.  It was a productive and fun trip, but the breakneck pace of it left me feeling tired and homesick and a little sad.
That's the breaks when you live in a city about a thousand miles away from your family; the city offers excitement and opportunity and endless fun, but without a private jet or a limitless travel fund, you mostly have to make do with brief, occasional trips, and then rely on phone calls and Facebook and email in order to keep in touch the rest of the time.  (I would say Skype, too, but I'm probably the one millennial on the planet who isn't exactly sure what Skype is.)
Fortunately, I've been able to build my own surrogate family in Boston, composed largely of fellow Southern expatriates, as well as other friends who have joined us along the way.  And a surefire cure for homesickness is our weekly family dinner, where we get together and cook and eat and play games and drink beer (Joe's homebrew or otherwise) and laugh about the crazy things we've experienced during our work weeks.  (Alex, Olivia and I work in various aspects of customer service, Evan is a bartender, Sarah is a teacher, and Joe is a therapist, so we always have plenty of material in that category.)
At a recent family dinner, I was lamenting that, as much as I love to bake cakes, I rarely get the chance to do it, because once you've baked a cake, your kitchen contains an entire cake.  Which isn't exactly a problem, per se, but I do have a wedding dress I need to fit into in a few short months, and I know my power of self control is about zip when it comes to cake and frosting.  But wait!  If a group of hungry family members can't polish off the better portion of a cake in one sitting, leaving few tempting leftovers, then who can?  Thus, Family Night: Cake Edition was born.
When the opportunity to bake a cake presents itself, my brain immediately downloads about five different cake recipes I've logged away, and it becomes my job to choose what kind of cake I'd like to bake from the database.  Joe made it easier by requesting something with blackberries, and I was personally hankering for something with a lot of lemon, but none of the recipes I had quite seemed to fit the bill.  What I ended up with was sort of a hybrid of several different recipes.  The batter was adapted from a Cooking Light cupcake recipe; the frosting was inspired by the Joy the Baker cookbook, and stuffing the layers with berries is just a little thing I do. (Yay, self-referencing!)
Because this particular family dinner took place on a Sunday, a busy day at our house, I made the cake over the course of several hours.  In direct opposition to my theory that cakes misbehave when you're trying to impress people, these turned out beautifully.
You know you're in the clear when you see the edges of the cake pulling away from the pan like this: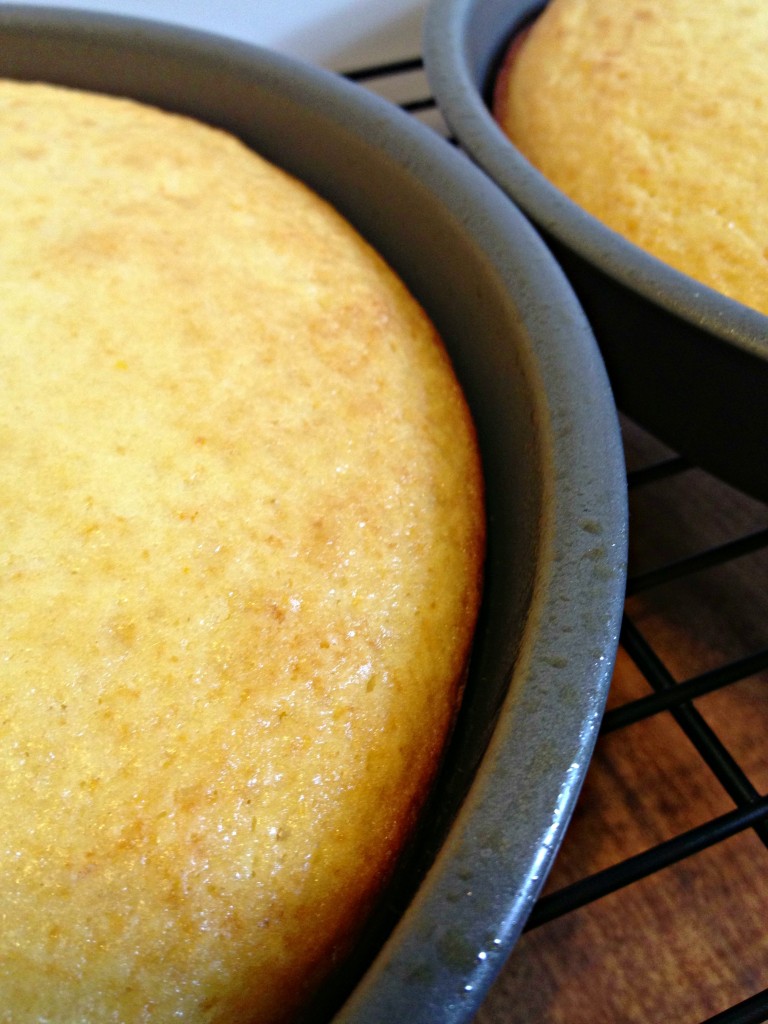 To help the cake out of the pan, I like to run a thin, flexible spatula along the outside of the cake, and a little bit under the bottom.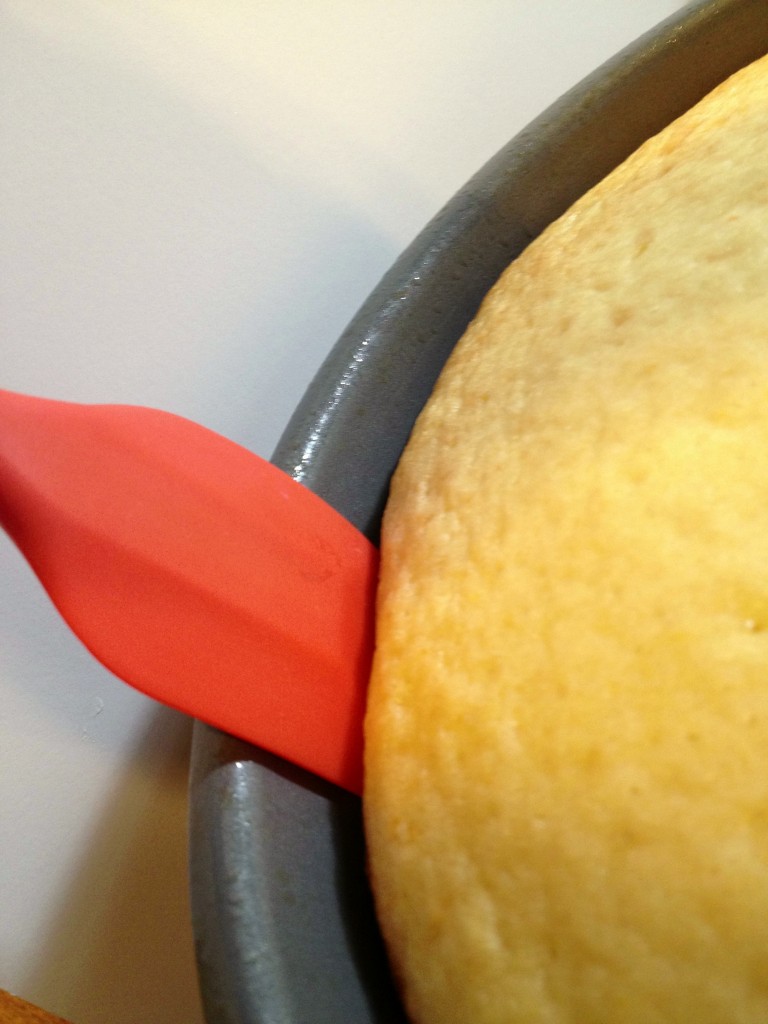 And voila! There's nothing more exciting than seeing a cake come out of the pan in one piece, with that lacy, dark brown crust on the outside.  These cakes also had the added advantage of smelling like lemons and warm vanilla.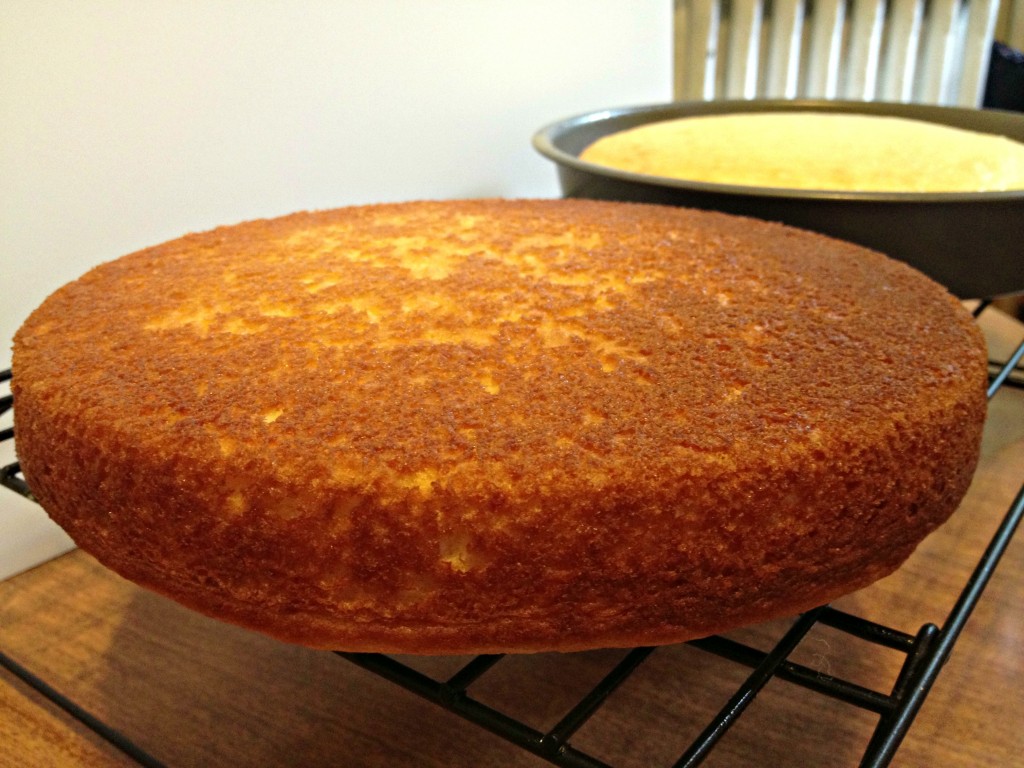 After baking the cakes, I had to dart out of the house for a little while, so I left the cakes on cooling racks and wrapped them up in a clean cloth..  I hadn't yet bought all the ingredients for the frosting, so after a quick trip to Whole Foods, this is what my purse looked like for the following few hours: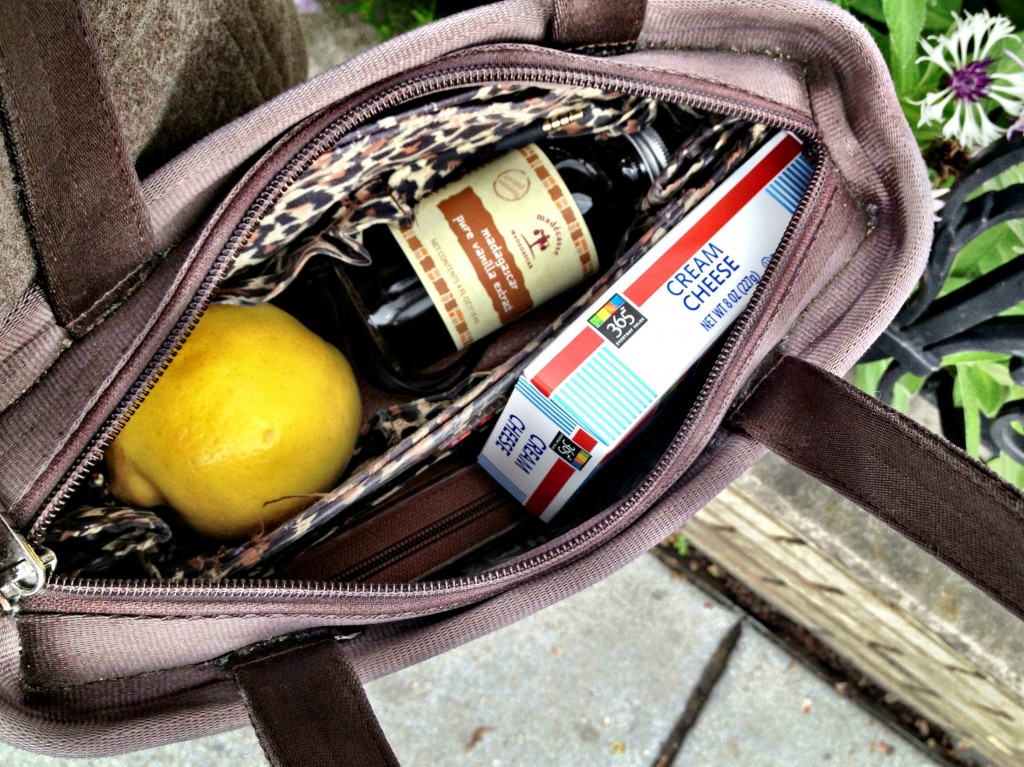 Typical.  At least the cream cheese had time to soften while I was out and about.
One church service, lunch, and one concert later, I finally made it back home to whip up the frosting and assemble the cakes.  In order to pack as many berries as possible into a single dessert, I like to stuff them in between layers.  I spread the bottom layer with a good dollop of the frosting (also delightfully lemon-scented), a thin layer of blueberry jam, and then covered the whole thing with a ton of blueberries and raspberries.  It's a great way to make every bite full of fruit, but be advised that it will result in a bigger gap between the layers of cake, and that you will have to fill that gap with extra frosting.  Again, not exactly a problem– but just make sure you have enough frosting.  I used every last bit of mine to get the job done.
By the time the cake was completely frosted and covered with a crown of berries, we were already about an hour later for dinner than we had originally planned, so instead of carrying the cake across town on the bus– and because I had no cover for the cake– we jumped in a cab. (It's fun to note here that "across town" is actually only about four miles away, but it's a minimum half-hour trip via public transit.  Oh, Boston.)  Carrying a cake in a cab is a little nerve-wracking… but probably less so than carrying a cake on a bus that's stuffed to capacity, and then some.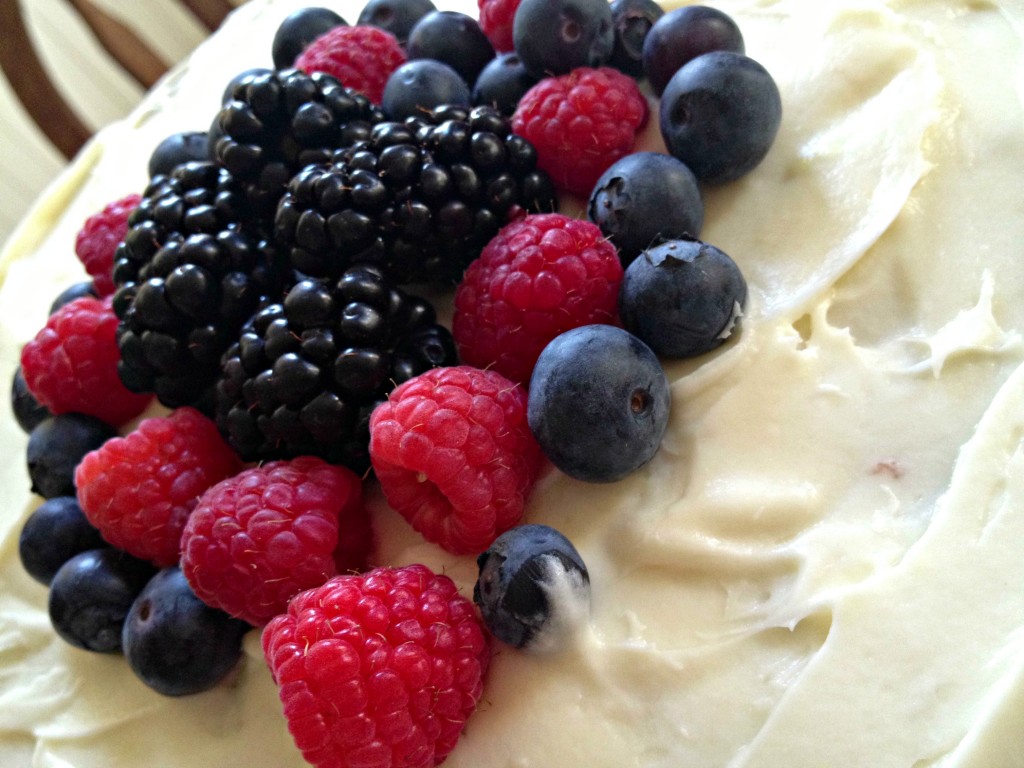 Of course, when we arrived at dinner, we actually had to eat dinner before digging into the cake.  Not that I'm complaining: this time, dinner was Joe's famous carnitas and his should-probably-come-with-a-warning-label sangria.  Just look at all of it: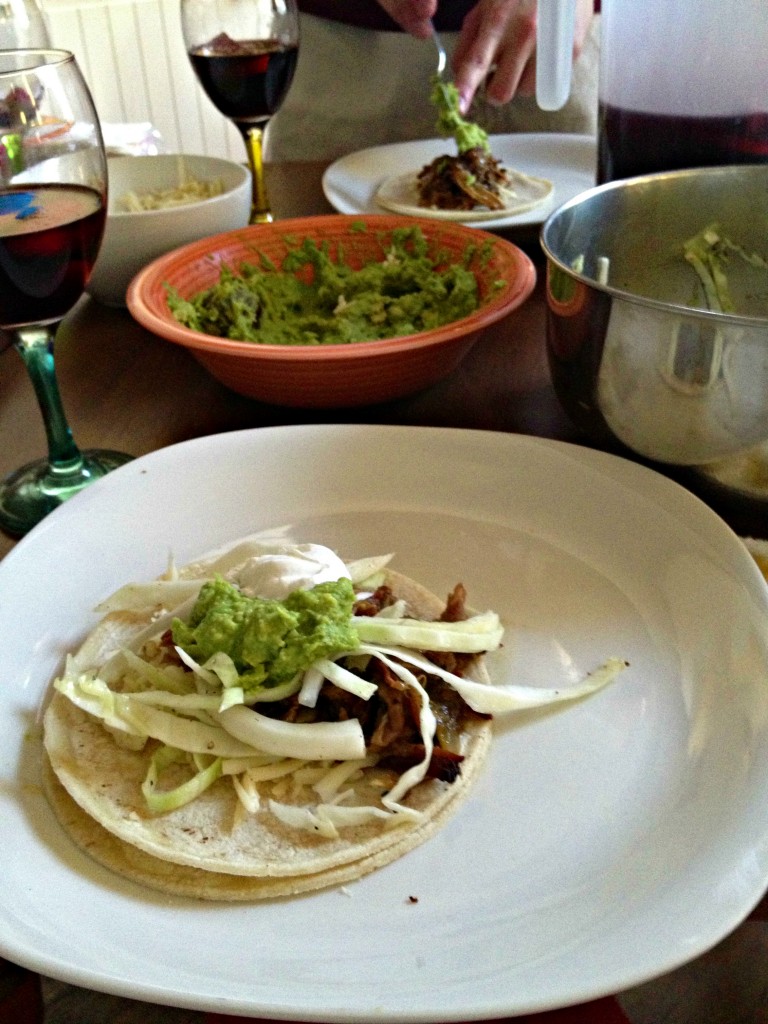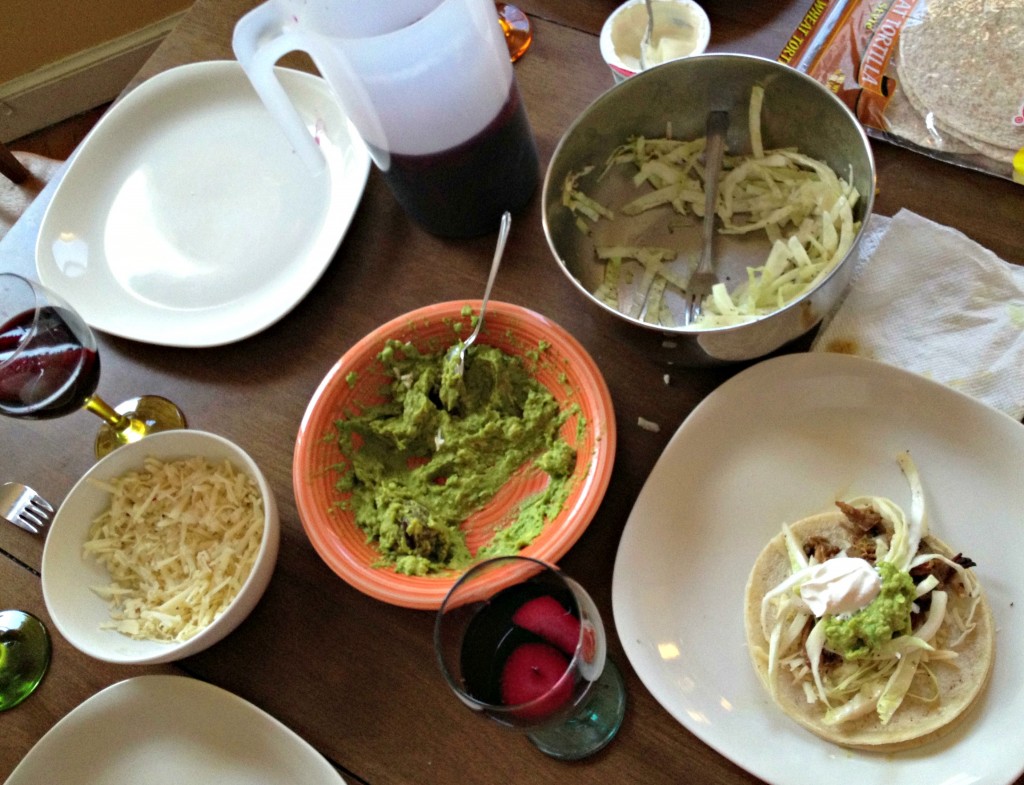 So, naturally, by the time we got around to cake, we were already pretty well stuffed with simmered pork and guacamole, but somehow, it's hard to say no to this, no matter how full you are: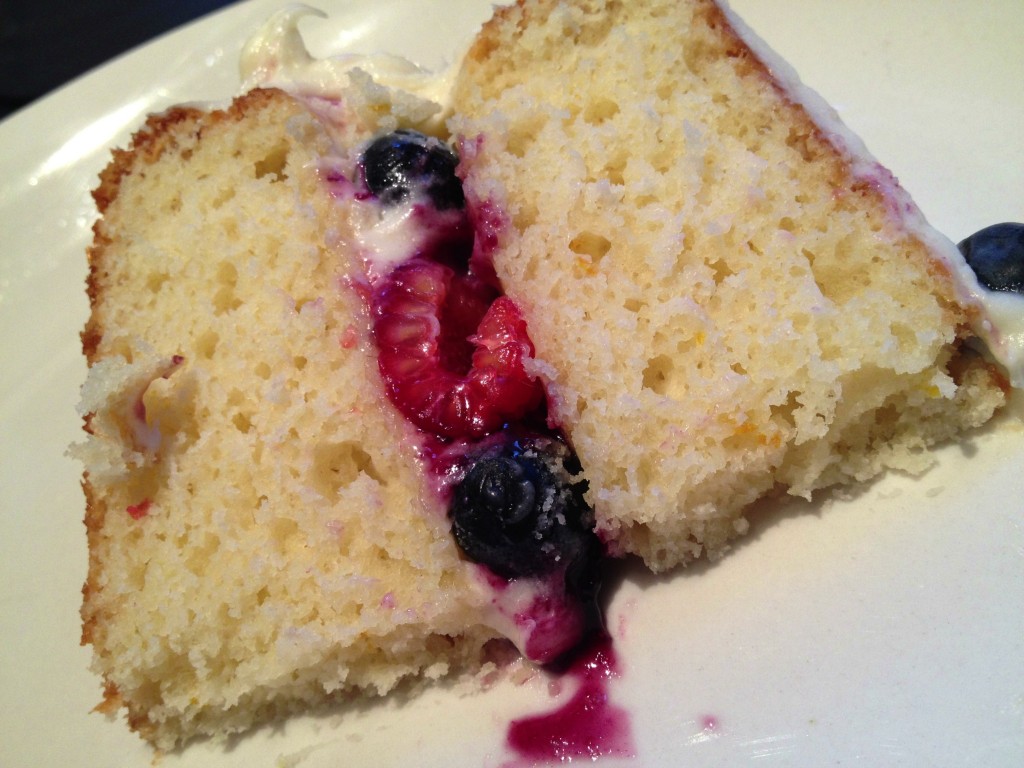 It's also hard to say no to another slice.  Oh, just a little sliver.
The cake was deliciously citrusy, with a crumbly, almost muffin-like texture, and the tartness of the fruit filling and the lemon in the cream cheese frosting kept the cake from being overwhelmingly sweet.
While my blink-and-you'll-miss-it trip to Alabama left me feeling homesick, family night with carnitas and cake cheered me up and reminded me why it's so nice to live here in Boston.  Sometimes a little cake is all you need to gain a little perspective.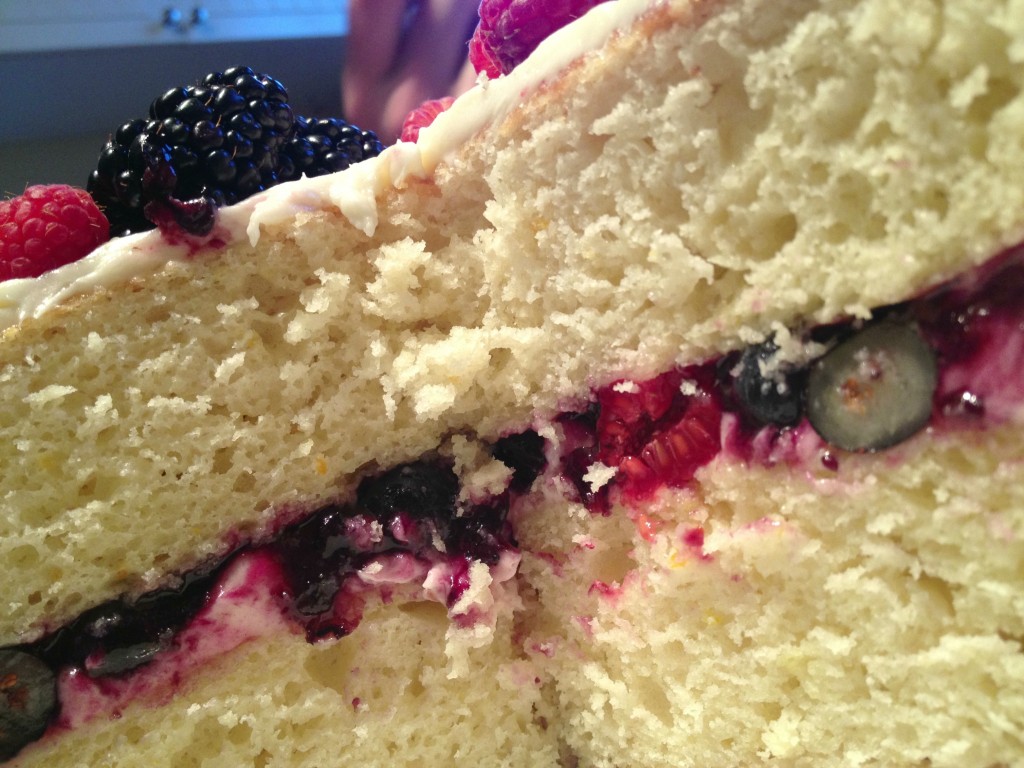 Lemon Buttermilk Cake with Berries
for the cake
3 cups all-purpose flour
1 cup sugar
3 teaspoons baking powder
1/2 teaspoon salt
1/4 teaspoon baking soda
1/2 cup butter, melted
2 large eggs
1 cup buttermilk
1 cup 1% or 2% milk
2 teaspoons grated lemon rind
for the frosting
8 ounces cream cheese, softened
1/2 cup (1 stick) unsalted butter, softened
pinch of salt
2 cups confectioner's sugar
2 teaspoons vanilla extract
2 teaspoons lemon zest
1 tablespoon lemon juice
for the filling
1/4 cup blueberry jam
about 1/2 pint each of blueberries, blackberries, and raspberries
Preheat oven to 350°F and spray two 8-inch round cake pans with cooking spray.
Combine flour, sugar, baking powder, salt, and baking soda in a large bowl.  Combine melted, cooled butter and egg in another large bowl and stir with a whisk.  Add buttermilk, milk, and lemon rind and stir to combine.
Add buttermilk mixture to flour mixture, and stir gently until just combined.  Divide batter between prepared cake pans and bake for 30 minutes, or until the edges of the cake are golden brown and pull away from the pan.  Transfer pans to wire rack to cool for 10 minutes, then remove cakes to the rack to cool completely.
To make the frosting, beat cream cheese and butter with an electric mixer until thoroughly combined.  Add the lemon juice and zest and beat until combined.  Turn the mixer to low and add the salt and powdered sugar, followed by the vanilla extract.  Beat until thoroughly combined, stopping to scrape the sides of the bowl if necessary.
When the cakes are completely cool, spread about 1/4 cup of frosting over the bottom cake layer; top with 1/4 cup jam and a generous layer of berries.  Place the top cake layer over the berries and frost the rest of the cake.